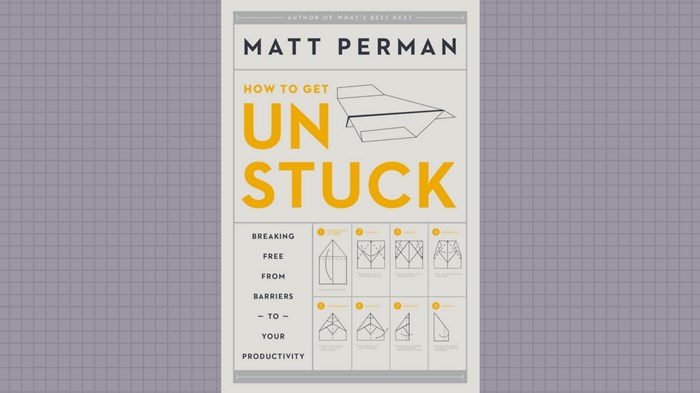 One-on-One with Matt Perman on 'How to Get Unstuck'
Ed: There are many books on productivity, but you write that your book "is about getting unstuck so that you can accomplish God's purposes more effectively." Why did you take this focus?
Matt: You are right that there are lots of books on productivity out there. We can learn a lot from them. Yet almost none of them are from a Christian point of view. That leaves a huge gap. I'm trying to fill that gap.
Ed: Tell me about that gap.
Matt: I think there are three reasons we need to fill that gap. First, because the gospel affects all of life. Productivity is a key part of our lives, affecting how we do things every day. So we need to see how the gospel impacts the way we go about being productive. Otherwise, we are "winging it" when we think about how the gospel impacts an immense part of our lives.
Second, I think this is necessary to make the faith and work movement complete. It is wonderful that an emphasis on faith and work is increasing in the church today. Yet this movement often leaves out some of the things people most want to know—how do I do my work better, while still in a gospel-centered way and addressing some of my biggest productivity challenges?
We have to talk about this in the faith and work movement from a researched and informed point of view if we are going to give Christians the help they truly need and help them learn how to reflect the greatness of God in their work, for the renewal of culture and their own fulfillment.
Third, it is exciting to see how the gospel connects to our productivity. When we look at productivity in light of the gospel, we see that productivity practices become a means of advancing God's purposes more fully. We might at first think that means just evangelism, but God is renewing the whole creation and his purposes are holistic.
By doing our work more effectively for Christ's sake, we participate with God in his work to renew all things. Our productivity does this by serving the common good and creating a more credible testimony to the gospel through our deeds. It gives new meaning to our email processes, to-do lists, and project plans to realize that they play a role in this.
Ed: It's obvious reading your book that you've read many books on productivity. Where did this interest come from for you?
Matt: My first interest is actually theology and apologetics. I got a great education in those through my own reading and writing during college and in seminary. But in my first job after seminary, I found that knowing theology was not enough—even though I was working at a ministry. I saw that I also had to learn how to get things done—create project plans, manage multiple priorities at once, manage people, and do all of those other things. Since I enjoyed my work, I decided I would give the same emphasis to learning productivity as I had theology, and then use what I learned to help serve the advance of the gospel through the church and the advance of the common good in the marketplace.
Ed: Some readers might have read your previous book, What's Best Next. How does Unstuck relate to What's Best Next?
Matt: Unstuck differs in two ways. First, whereas What's Best Next gives a complete productivity system, Unstuck focuses chiefly on how to overcome productivity obstacles. It hits on specific obstacles as well as gives you principles for avoiding the trap of getting stuck and how to get out of it when you are.
Second, in doing this, Unstuck allowed me to cover a lot of key principles that there was not room for in What's Best Next. For example, What's Best Next doesn't discuss in detail the concepts of urgency vs. importance (though they underlie the whole book). In Unstuck, I was able to give a whole chapter to them. Unstuck also hits principles like "see yourself as a professional," the importance of preparation (and how to do it well), the need to "start with your time, not with your tasks," and what it means to be missional (yes, gospel-centered productivity connects to being missional!).
Together, the two books present a more complete picture of how to be effective in a gospel-driven way. Yet each book stands on its own, so you can start with either.
Ed: What kind of results can people look forward to when they get unstuck?
Matt: First, there are great benefits to us. When we get unstuck, we can get more done with less stress. We can manage our time more deliberately, have greater energy, and enjoy more peace of mind. Our work and lives will also have greater impact.
Second, and even more importantly, when we get unstuck, we are able to help others get unstuck. This is the "unstuck cycle" that I talk about in the book. The ultimate purpose of our getting unstuck is not just for things to be going better for us. Rather, when we get unstuck we look for others who are stuck and help them get unstuck.
They, in turn, can then help even more people get unstuck, and before you know it we have a virtuous cycle of kindness and others-centered impact going on. This is a wonderful reflection of the character of God, who gives to us that we may be able to give to others (2 Cor. 8:14-15) and who said "It is more blessed to give than to receive" (Acts 20:35).
The Exchange is a part of CT's Blog Forum. Support the work of CT. Subscribe and get one year free.
The views of the blogger do not necessarily reflect those of Christianity Today.