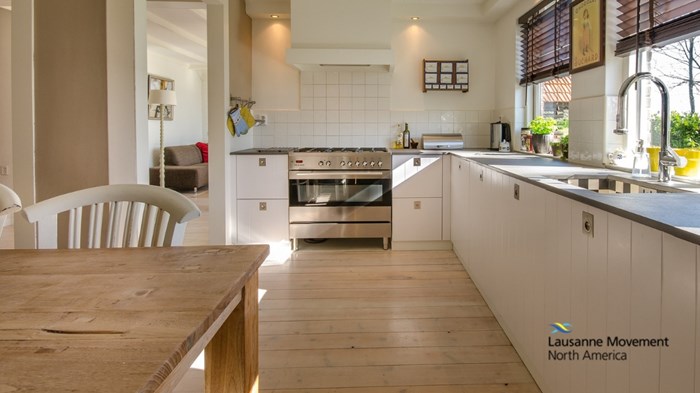 Image: via Pixabay
The U.S. Lausanne Committee, also known as the Mission America Coalition (MAC), recently concluded its annual national gathering in Dallas, Texas. During the gathering, President/CEO Nick Hall announced MAC's new name as The Table Coalition.
But why "table"? The Table Coalition leaders shared various analogies of a table, including "a place to gather, listen, and share. Tables make room for all kinds of people, and everyone has something to offer or receive. A table is a place to be nourished, and then go out with strength."
Strategic collaboration may occur around a table. Cru's President, Steve Douglass, told the story of how mission and ministry executives seated at a conference about unreached and unengaged peoples decided over Table 71 to partner together in reducing the number of remaining unengaged people groups down to zero.
The cross is readily noticeable in The Table Coalition's new logo, featuring a horizontal rectangular table positioned in between two chairs above and below it. The coalition seeks to answer the question, "Who is missing from the table?"
Hosting International Students
How might we invite all peoples and all nations to the table of the Marriage Supper of the Lamb? One way is to invite people from other nations whom God has sovereignly brought to our communities, campuses, and churches to join us at our own supper tables.
We are all admonished to practice hospitality, and surely there can be mutual blessing from sharing, receiving, and learning from those from other cultures and countries. Hebrews 13:2 reminds us that hosting internationals may be a way to receive God's angelic messages from strangers and foreigners.
While hospitality is still commonly practiced in many cultures and countries, it is not as common in the U.S. and some other western societies as in the past. This is addressed more extensively in Dr. Christine Pohl's book, Making Room: Recovering Hospitality as a Christian Tradition.
But there are special celebrations and occasions that lend themselves to include international students and scholars who may not be able to return home during the academic holidays and who would appreciate the opportunity to join an American family around the dining table.
Ever since I began encouraging the church to welcome and host international students over four decades ago, I have heard the repetitive declaration that 80% of international students never enter an American home. Even though I have sought to find the research that reported such a claim without success, the reality is that the majority of students from other countries do not experience being hosted in an American home.
Might it be feasible to include international students in your upcoming Thanksgiving celebration? Do you have children in college or university who may know some international students to invite home for the Thanksgiving break? Or, you might check with a local school or English Language Institute to see if they include community host families in their services for international students and would welcome Thanksgiving hosts.
Additionally, you could inquire of any existing international student ministry in your area and volunteer to be a Thanksgiving host. The Association of Christians Ministering among Internationals might be able to connect you with a local outreach among international students.
Another special holiday season to consider hosting international students is Christmas. When Jesus first came to us, there was "no room in the inn" for him. Later, he taught his followers that welcoming strangers is the equivalent to welcoming him. Might there be room in your home to welcome Jesus and to celebrate his arrival by hosting international students for a meal this coming Christmas?
Hosting International Scholars
Besides individuals and families making room for international students in their homes, schedules, and lives, more and more churches have included a variety of services for scholars from abroad.
Three years ago, St. Matthews Parish Church in Fort Motte, SC, offered a home-stay weekend to 25 foreign students at the University of South Carolina and Benedict College in Columbia, SC. It was a small congregation of about 50 people and located 30 minutes from both schools. These foreign students enjoyed a Saturday afternoon with the congregants in the woods, fishing/boating on a private lake, an interactive session on cross-cultural transitions, Southern pot-luck cuisine, a lesson on the official SC dance (the Shag), the Sunday worship service, a lunch feast together, and a time of debriefing and sharing.
The congregation has now offered a weekend of hospitality five more times, and has been expanded to include students from the University of North Carolina-Charlotte and also Columbia International University. The people of St. Matthews Parish made room in their weekend schedule, their homes, and their lives, and testified they greatly received the blessing of hospitality by including the world at their tables.
For some international student ministry ideas, see some links on the ISM Resources page of the New Wineskins Missionary Network.
Leiton Edward Chinn has been mobilizing the church for ministry among international students for four decades through various mission/ministry networks, including the Lausanne Movement, World Evangelical Alliance Mission Commission, Association of Christians Ministering among Internationals, Missio Nexus, the Evangelical Missiological Society, the Mission America Coalition (now The Table Coalition), and the Ethnic America Network.
The Exchange is a part of CT's Blog Forum. Support the work of CT. Subscribe and get one year free.
The views of the blogger do not necessarily reflect those of Christianity Today.