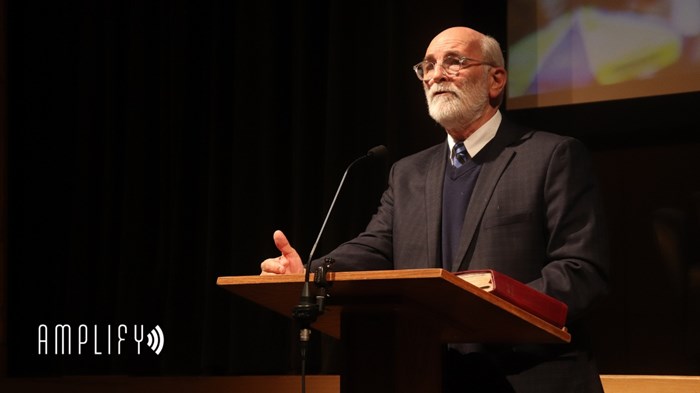 Image: via Brendan Jones
Ed: It's hard to deny that we are living in challenging times culturally. The church's influence is fading, and we are struggling to find answers to some hard questions. What's your take on the health of the church today, especially as it relates to our witness?
Jerry: Throughout history, times have always been challenging. Since the Fall, there has never been a time when all went perfectly well. Cultures are in a state of constant flux and change. Like swells on the sea, there are ups and downs, so too, culture is always moving. If we waited until all was still and steady—that is, if we waited until conditions were just right—we would never get started with kingdom work.
The church has never progressed well when its ministry is determined by surrounding circumstances. It functions best when it keeps its eyes on Christ. Jesus said, "Go make disciples." It was said in challenging times.
The church obeyed and thrived even when the sledding was tough. The command to make disciples still stands no matter what the times are like.
Billy Graham, interviewed by People Magazine, was asked if he was a pessimist or an optimist as he looked at the world's situation. Graham responded, "If I only had the world to look at, I'd be a pessimist. However, I have my Bible, and I have read the last page and have seen that it all turns out all right. I'm an optimist!"
That is the right spirit. However, perhaps optimist is not the right word. Professor Jeff Davis said, "Hope is a better word." I think he is right. Those who lose their sense of hope lose their sense of purpose and mission.
As for the questions the culture might be asking at any given hour, the church cannot huddle together fearful of the questions. We need to stay engaged. Listen to the questions first hand, in daily conversation with those around us. Then, we must let those questions drive us to dig for answers—that is, applications of biblical wisdom to the need of the moment.
Furthermore, no question should ever end a dialogue. In fact, the questions others ask give us opportunity to actually continue the discussion and show our love. We can dig, discover, and return to the one who asked the question and say, "You really matter to me, and so do your questions. I took what you said seriously and this is what I discovered."
The conversation begins again in a context where people see that you really do care. When Christians respond in ways like that, it shows the church is functioning in a healthy way even if the world is in a fevered state.
Ed: Evangelism has especially fallen on hard times. It seems that everything else—even good things like discipleship—has overwhelmed our passion for sharing the love of Jesus with others. What does evangelism look like today, and how can we begin to develop a passion for showing & sharing the love of Jesus on a daily basis?
Jerry: It seems to me that evangelism—sharing the love and grace of God with others—must begin with a constant and vibrant first-hand experience of that love and grace in our own daily lives. We should be aware that our own need for God's forgiveness and grace is not casual but constant. We should lather up in a growing awareness of God's great love for us, an awareness we discover as we are daily reading in the Bible and daily pray for those around us.
As our hearts break for others, we enter into something that resembles the heart of God for others. This growing sense of the love of God and love for others can be cultivated. And, if we share Christ with others out of such authenticity, my guess is we will gain a greater hearing.
Nobody complains of the grandmother who likes to show pictures of her grandkids to those around her. Our joy in telling others about God's love should be at least that easy.
Two days ago, at breakfast, a waiter asked me how my morning was going. I said to him, "I spent the morning reading my Bible and was overwhelmed once again by how much God loves me. I am a messed up person but seeing his love is blended with forgiveness and grace, I was deeply moved." He was deeply intrigued and leaned into that conversation and I was able to share the gospel with him.
It was a natural outgrowth of loving Jesus publicly. Anyone in love with Jesus can do this in a sensitive, thoughtful way.

Ed: You are a plenary speaker at our 2019 Amplify North American Evangelism Conference next summer, and you are talking about "A gospel for the burned and bruised by the church." Tell me about what a gospel looks like that takes into account those who have been hurt by the church. Why does this gospel matter to us?
Jerry: Nobody likes to hear about others who have suffered because of the inconsistencies and thoughtlessness of others. I suppose, if we were honest, we would all have to admit we have come up short plenty of times.
We believe in the high value of love yet we have had sharp words with those we say we love most. We believe in justice but we sometimes treat others unfairly. When we fail, and hurt others, the right thing to do is go to them, admit our fault, and ask for their forgiveness.
In the church we can extend that practice. If I hear someone is angry because he or she was so mistreated by a Christian; I ask to hear the story. Then I say to that person, "It breaks my heart that this happened to you. I am a Christian. Would you let me stand as a surrogate in the place of that one who hurt you and ask your forgiveness? I want to do this because I would not want anything someone else did to keep you from seeing how deeply Jesus loves you."
I think this is the place where a gospel conversation might be reignited.
The Exchange is a part of CT's Blog Forum. Support the work of CT. Subscribe and get one year free.
The views of the blogger do not necessarily reflect those of Christianity Today.