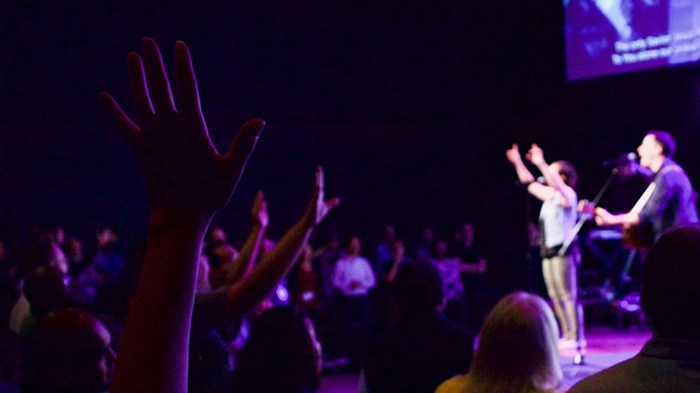 Image: via Brendan Jones
Ed: We are living in challenging times. The church's influence is fading. We are struggling to find answers to hard questions. What's your take on the health of the church, especially as it relates to our witness?
Sherry: There is no question that the influence of culture continues to grow. There are battles being waged for the hearts, minds, and the very lives of people we encounter each day. God's people need to be ready to face the battles that are raging in our culture and in the spiritual realms. Mere intellectual and human strategies will not lead to victory.
In Ephesians 6, the Apostle Paul reminds us that the battles we face are not ultimately against flesh, blood, and people. The real battle is spiritual and God has given us armor as well as weapons. There are many ways the church can prepare to stand strong and walk in the love and power of Jesus. Here are some specific ways we can walk in the power and presence of Jesus as we fight spiritual battles:
Put on the armor. Pray the words of Ephesians 6:10-18 daily or weekly. Ask the Spirit of God to protect you as you seek to show the love of Jesus and speak the truth of the gospel.
Take the sword of the Spirit. Open God's Word daily and fill your heart and mind with the truth. Love the Scriptures, know them, and follow what God teaches.
Pray at all times. You can talk with God with your eyes closed and with your eyes open. Ask for God's power to be unleashed in your life, through your church, and in their lives of those who are still not aware of God's love and the grace of the Savior.
Be authentic. The world is looking for people who are transparent, real, and authentic to the core. Show people that when Jesus enters a human heart and life, we become fully who God has made us to be.
Invite people to belong before they believe. Churches that demand full adherence to church doctrines and practices before a person can feel part of the body will drive many people away. We need to be congregations of believers that embrace people right where they are and love them while they grow in their understanding of who Jesus is and what the Bible teaches.
As we invite people to be part of our community while they wrestle with things of faith, they are much more likely to stay engaged and walk toward the grace, love, and person of Jesus.
Ed: Evangelism has fallen on hard times. Churches are still committed to discipleship and worship, but many fail to engage their congregations in meaningful outreach. What does evangelism look like today and how can we help people grow a passion for showing and sharing the love of Jesus?
Sherry: Those of us who call ourselves Christians should be compelled to love people kindly, serve others humbly, and share the message of God's love with those around us.
This should be done with sensitivity, gentleness, and in an organic manner. Evangelism should be done in natural ways that don't freak people out or drive them away from the God who loves them.
The local church is the best training ground for equipping children, teens, and adults to share their faith. Here are a few ideas to help us take steps forward in mobilizing all of God's people for the work of the Great Commission:
Realize that every person Is unique. There is not one way to reach all people. We need to love people and get to know them, not as projects, but as people loved by God! We must listen well and discover people's temperaments, struggles, joys, history, passions, fears and story.
Use spirit-led creativity. As we walk with people toward the Savior, we must listen for the still small voice of the Spirit to guide us in what to say, how to serve, when to tell our story, how to share the gospel, and even when to be quiet. God is speaking, we can hear his voice when we listen well…this is a key part of prayer.
Scatter Seed. Each follower of Jesus can scatter the seeds of the gospel on a daily basis. Acts of love offered in the name of Jesus. Prayers offered in times of joy or pain are powerful and create a place for the Holy Spirit to show up. Personal testimonies that include the story of Jesus are life changing. Our part is to scatter seeds. God's part is to change lives!
Utilize connecting points. Jesus met people where they were and we can do the same. Look for common interests and natural intersections.
Use relational bridges. Don't live in two worlds: secular and religious. Bring your worlds together. Throw a party or plan a dinner and invite some warm and loving Christian friends and some of the amazing people you love who are not yet following the Savior. Great things will happen.
Give strategic invitations. When something valuable, interesting, inspiring, or fun is happening at your church, invite friends and family who don't know Jesus, but who love you. These connecting points can open the door for fresh new relational connections, they can break down negative and false ideas about the church, and they can create a place for people to hear the story of Jesus.
Ed: What kind of prayer life calls us to preoccupation with the love of God?What is the role of prayer in our witness?
Sherry: Two words troubled me for all of my childhood, my adolescent years, and for many years into adulthood. "Pray continually." This exhortation is found in the Bible. It is actually the shortest verse in all of the Scriptures (1 Thess. 5:17). How was I to pray without ceasing? How could anyone measure up to this spiritual expectation? The very idea of praying at all times, in all situations, every moment of every day, felt oppressive.
After years of struggling with this passage the Holy Spirit breathed a simple truth into my soul. It changed everything. A veil lifted and I saw the real meaning of this passage. Joy descended. My prayers were expressed with a new freedom and passion.
It is not that we have to pray continually…it is that we get to!
This is not just semantics. It is a spiritual reality. It is a paradigm shift of heavenly proportions. It is not that we have to pray every moment of every day. God will not be disappointed or angry if we don't. The wonder and joy we need to embrace is that the Maker of the heavens and the earth invites us to commune with Him at all times and in all places.
When prayer becomes like breathing, our understanding of God deepens and our intimacy with the Savior ignites. When this happens, we are captured by the love of God and our heart for lost people mirrors his heart. Our passion for people moves us to actions and words that reveal the presence of the God who so loved the world that he gave his only Son!
Prayer can change a normal day to an adventurous day as we encounter God and reach out to others with his love. Preoccupation with God's love leads to a preoccupation with sharing this love with the world…this is evangelism!