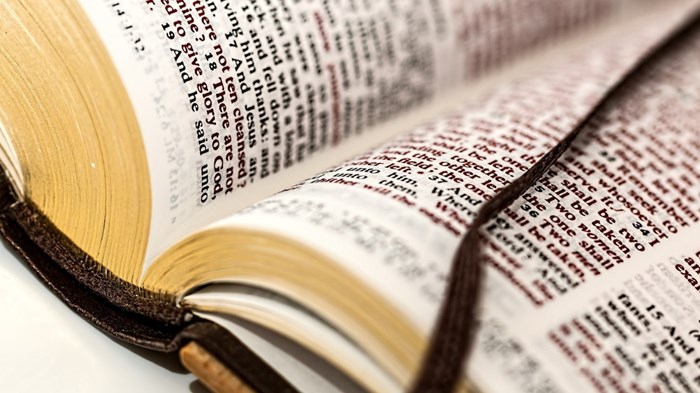 Image: via Pixabay/Stevebp
We all have diets. We all consume different types of food habitually.
Necessarily, it would also seem that the word 'diet' is further popularized as many are practitioners of specialized diets, ranging from a raw food diet, to a ketogenic diet, to an Atkins diet.
For the sophisticates, diets are restricted to time combined with circadian rhythms. And if those are not good enough nor fast enough to achieve meaningful results, there are assortments of diet pills.
Diets through special restrictions have taken over the culture and makeover how we think about food and its caloric count. We are obsessed with reading packages, counting calories, and thinking about what we put into our bodies, rather than enjoying the provision, texture, and the full-goodness of food!
The Bible is a full spiritual diet, with healthy courses of narrative, history/law, prophecy, wisdom, poetry, apocalyptic, parables, gospels, and Epistles. Each diet (genre) provides nourishment for individuals, communities, and churches. A cross-sectional of diet might be seen in the liturgical practices, or reading through the Bible chronologically annually, or reading through the Bible over a period of three to five years.
But personal recent observation of the Bride in America would suggest that there might be a tendency to prefer the New Testament diet over the Old Testament, and that a Pauline diet is much more favored.
Could this be attributable to seminary courses which might lean towards the Epistles for the sake of teaching exegesis? Might it be possible that the use of Epistles lends itself towards making 'points'? And might it be possible that the usage of digital presentations reinforces the teaching of the sacred text so that it truly becomes "Power-Points" for the congregants?
The Importance of Narrative
Interestingly, among others, Amazon CEO Jeff Bezos had banned the usage of PowerPoints for meetings because research shows that (1) our brains are hardwired for narratives, (2) stories are persuasive, and (3) bullet points are the least effective way of presenting ideas.
What does this say about communications? When scientific research points to narratives as a means for effective communication, why are we still so stuck on making points? The millennial generation hungers for better stories; isn't our story just as grand, relevant, and impactful?
By missing out on a balanced spiritual diet, we are restricting our understanding of living out Christian lives. For example, our society does not seem to know how to lament anymore. Yet, in the Book of Psalms, there are well over 60 Psalms that are categorized as 'laments', and some are written and collected as laments for the community.
When was the last time that we sat communally, expressing our own sorrows before God, pleading with him to intervene, bless, and have his way? Deep visceral psalms speak within and identify with a long line of worshippers over centuries who have spoken with God in such a fashion.
Also, we often forget that the Genesis' account of families are similar to the society we live in, blended families with favoritism, fights, and blessings. God accommodated this and moved his redemption plan forward. Thus, the Psalms and historical narratives are relevant to us.
Lest one think that I am pointing a finger at pastors, especially during this pastor appreciation month, I am not. I am vitally interested in a larger conversation with respect to the seminaries and Bible colleges, and the preparation of our shepherd leaders.
Technology and Leadership
With technology changing the marketplace in every single sphere and most disciplines, one of the last holdouts is in the entire theological education space. We already know that many seminaries and Bible colleges are feeling the financial pinch and have slowed down in their investment for renewal. I fully recognize that I am not walking in the shoes of leaders who are having to nurture each of the institutions; however, I am wondering: How does theological education think through relevancy in the 21stcentury?
Digitization of content is having three profound effects upon us. With knowledge redefined, access redistributed, and authority renegotiated, the lockdown of biblical knowledge is no longer confined to the domain of theological education.
Yet, we still train our pastors, the under-shepherds, in similar ways as we have in the past.
We feel that we are adding value by having the students do certain media electives, including how to use 'PowerPoints'. We have created reinforcing, feel good mechanisms to present biblical content. The future under-shepherds carry this out of the laboratory and perpetuate the practice upon the real world, while paying off accumulated debt from education.
We must give preeminence to preaching the Word. We also hold the tension with a continuance to perpetuate a restrictive diet that favors a one-way conversation, when in fact, communication is both ways.
We make assumptions that imparting biblical truth from the front is authoritative, forgetting that there are databases full of biblical truth to be accessed. We think our congregants are hungry for the truth, but they are equally hungry for a conversation about the truth in the marketplace, or at home, or at school.
The working conditions of our society, with its multi-screen, truth-bearing individuals, interrupting our sensibilities, has changed dramatically, and theological education and training of pastors are falling behind.
What must we do to support pastors better?
Pastors, I salute you. Thank you for what you do. Eugene Peterson's Under the Unpredictable Plant provides a picture of what you do daily: you care for the barn, and you take the 'stuff' out from the barn and clean it up. The barn is a place of nurture, growth, and care; the barn is also a necessary messy place. Thank you for being on call and tending to your flocks as a good shepherd would (Ezek. 34).
The grand beauty of the Holy Scripture is deposited to us in a combination of diets (genre) to be received in a balanced manner. Is it time for a deep introspection on the state of theological education, relevancy, and renewal as we move towards the third decade of this century?
Samuel E. Chiang is a husband, father, ordained minister, and President and CEO of Seed Company in Arlington, TX, a nonprofit committed to Scripture translation for people without God's Word through Great Commission Partnerships. To learn more about Samuel and Seed Company, visit www.theseedcompany.org.
The Exchange is a part of CT's Blog Forum. Support the work of CT. Subscribe and get one year free.
The views of the blogger do not necessarily reflect those of Christianity Today.