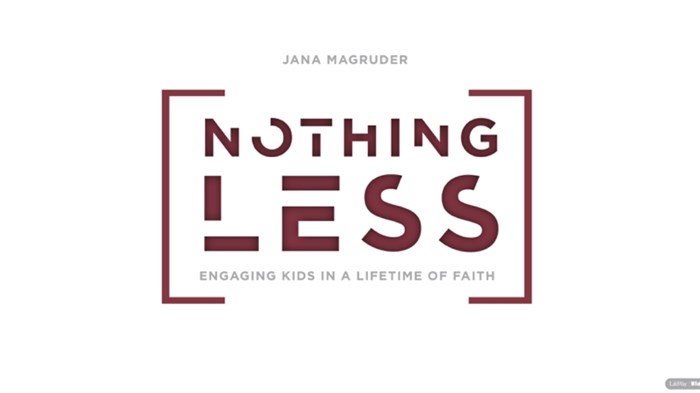 Image: via LifeWay Christian Resources
Ed: Your new book is based on some research done on key factors that helps us raise kids who are strong in their faith. What was the heartbeat behind this research?
Jana: Most of my team and I are in the parenting journey with kids of multiple ages still in the home. There is a sense of urgency we feel every day to seek out best practices for discipleship where we KNOW our time is best spent.
The research was designed to extract these best practices by interviewing over 2,000 protestant parents who have grown children and asking them to look back at what they did to disciple their kids at home, while at the same time evaluating how their adult kids are doing now spiritually.
Ed: What is the number one issue the research tells us about parenting?
Jana: When we got the research back, the top two answers felt so obvious that for half a second we wondered if we should have spent the investment of time and resources to do the study! The number one thing parents can do is Bible reading. This indicator from the research is so off the charts that it stands in a category all alone as THE number one thing.
If you do nothing else as a parent, read your kids the Bible and help them read it on their own as they get older. Because this was the biggest finding, we named the research and the book Nothing Less, which is taken from the A.W. Tozier quote, "Nothing less than a whole Bible can make a whole Christian."
Ed: What are the other indicators from the research that parents need to know?
Jana: Next on the list is prayer. It's another obvious one, right? Parents need to model Bible reading and prayer from the beginning and then help their kids take these on in their own time with God.
After that, the list is less predictable. Kids who served in the church while growing up was number three after prayer. This helps us know the value of parents serving because, honestly, it's difficult to create opportunities to serve if parents do not. We have to ask ourselves, "Will kids serve in the church when they get older if they did not have that example in their lives while younger?" Probably not.
Next up is kids listening primarily to Christian music. This was kind of a surprise because so many of us grew up in a movement where we had to surrender all of our secular CDs and cassettes at the altar! Hadn't we moved past that? The truth is, though, if kids are listening to songs with biblical truth and strong doctrine, then it points back to number one: Bible reading.
The last indicator in the top five is kids being involved in missions. I was thrilled to see this make the list! Churches need to realize that even if we don't dedicate a 'missions hour' each week like some of us grew up going to (and some still do), we can incorporate missional living in all we do. Ministry leaders can help parents know how to do this at home while also providing opportunities to pray and help send missionaries to the nations.
We know our kids are the next goers and senders in the church, so there must be dedication to helping foster a love for God's people and spreading the gospel. According to the research it makes a difference.
Ed: Sometimes, as the father of three teenage girls, I wonder if I will survive the next five years. Any advice?
Jana: The research goes into a whole section called "Surprise! What did NOT make the list." This list is what has us all swirling as parents and ministry leaders. Some of the most surprising include eating family meals together, involvement in sports and other extracurricular activities, vacations and one-on-one outings, private vs. public vs. home school choice, church size, and the list goes on. All of the items on this "surprise list" are good parenting practices.
However, the book suggests that we are chasing the wrong things. We so often find that parents are focusing a disproportionate amount of time on this list as opposed to what the research concluded as best practices for engaging kids and teens in a lifetime of faith: Bible reading, prayer, serving, music choice, and missions.
As a mom, I can relate. I'll feel so defeated by not getting a perfect Pinterest meal on the table each night or missing a chance to snap a Christmas photo at our instagram vacation I planned for months. In many ways, the surprise list has reminded me of my priorities and allowed me to take a deep breath of relief that God's Word alone transforms. So, yes, you will survive because I know you and your family place a huge value on biblical literacy, serving the church, and living on mission.
Ed: What are some practical ways parents can implement these best practices?
Jana: I can't emphasize enough that it begins with modeling in the home. If kids see a parent reading their Bible regularly, it signals the value placed on God's Word. Model praying, playing Christian music in the family car, sign up to serve at church, and live on mission as a family in the neighborhood, school, teams and beyond.
It's okay to still implement the "surprise list" items, but, don't misalign them at the cost of what truly moves the dial. And it is never too late to start. Even if a parent has barely read the Bible, it's perfectly fine to open it now and learn alongside your child or teen.