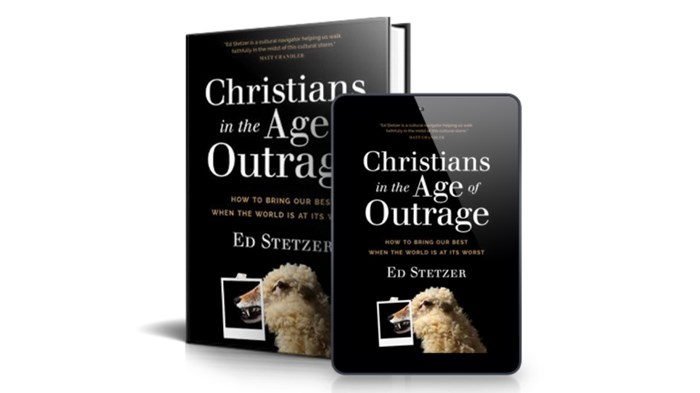 Image: via tyndale.com
Nearly a year ago this week I started writing a book.
In Fall 2017, it seemed like the world was on fire. Everywhere I looked, I saw anger—anger towards Christians, anger by Christians, anger by Christians towards Christians. People whom I respected as voices of patience and forbearance were being ignored or sucked into the hostility.
Everyone was intimately aware of how others were being angry towards them or their community, but shockingly ignorant of how they were displaying the same level of vitriol towards others.
What I realized as I was researching and writing was that this was a discipleship problem.
We are entering a new age—one defined by polarization and tribalism amplified by new technology and online platforms. As disorienting as this is for Christian leaders, this pales in comparison to those in the pew struggling to make sense of how to live, follow Christ, and witness.
Too often, sermons and small groups curriculum are leading Christians to engage a world that no longer exists. As a result, Christians can frequently be the greatest sources of outrage rather than its counter.
As I wrote, this became the central theme of the book. In the introduction to my new book, Christians in the Age of Outrage, I write,
This is a book about outrage. It's an acknowledgment that our world, or at least our part of it, seems awash in anger, division, and hostility. Outrage is all around, so we have to decide how to walk through this. We are living in a day— and this is indeed our moment— when we need to live like Christ, as gospel Christians in the midst of shouting, anger, and hatred. And it's going to get worse. To be sure, there is a lot in this world that is outrage inducing.

Terrorism, sex trafficking and exploitation, systemic racism, illegal immigration, child poverty, opioid addiction . . . and the list goes on. These issues deserve a measure of outrage, don't they? They certainly deserve our anger. And this is part of the problem. What do we do when the anger becomes too much? When our righteous indignation at injustice morphs into something completely different? How do we know when righteous anger has made the turn into unbridled outrage?

These questions do not have easy answers, but they deserve our consideration if we want to be faithful disciples of Christ.
Since that time a year ago, the situation has only intensified. How could I have known that the book would be published during the one of the most contentious Supreme Court hearings in American history? From social media to the water cooler and from cable news to the pulpit, the room for nuance or dialogue is shrinking.
Christians need help not only understanding how to understand a rapidly changing world, but also guidance in the ways that we can engage outrage with the gospel of Jesus Christ.
My prayer for Christians in the Age of Outrage is that it would help spark this conversation in churches, seminaries, and at the dinner table.
To help generate and lead these discussions, the book is composed of three sections examining the causes, lies, and responses to outrage. In the first section, I explore what I see as the two primary catalysts for our outrage. Just like doctors need a right diagnosis before they can proscribe the cure, Christians need to grasp the what and why of our indignation if we are going to have victory over it in our own lives.
The second section identifies what I believe to be four lies about how Christians engage culture that can reinforce, if not amplify, our world's anger. These include not only lies that this world tells us but, more importantly, the lies that we as believers tell ourselves.
Finally, I propose ways that Christians can effectively respond. Some of these responses are not groundbreaking but rather a call for Christians to remember what they have recently forgotten. Others as unique to the time in which we live, tailored to help Christians think about and engage our modern culture.
We live in an age of outrage. To many, this either leads us to raise the volume in our own anger or to shrink back in fear. Instead, I want to help Christians see outrage as the mission field to which God has called us.
Outrage can produce fear and anger, but it can also bring opportunity if we are willing to, by faith, step out and bring the healing message of a Jesus to a broken and hurting world.
Ed Stetzer holds the Billy Graham Distinguished Chair of Church, Mission, and Evangelism at Wheaton College, serves as Dean of the School of Mission, Ministry, and Leadership at Wheaton College, is executive director of the Billy Graham Center, and publishes church leadership resources through Mission Group.
The Exchange is a part of CT's Blog Forum. Support the work of CT. Subscribe and get one year free.
The views of the blogger do not necessarily reflect those of Christianity Today.