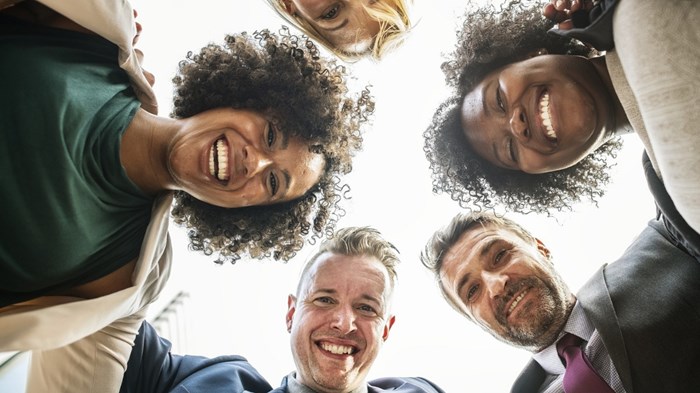 Image: via Pixabay
Previously on The Exchange I have written about my interest in studying Inclusive Leadership,which is how leaders can effectively assemble a diverse team of people and then ensure their different perspectives are included and valued.
This past summer, I ran a pilot study of my qualitative dissertation research with four Christian leaders who had at least five years of experience in cross-cultural settings. I was specifically exploring how they tried to cultivate inclusion in the context of their nonprofit, multinational teams.
The findings are certainly preliminary and will need much more validation with a larger group of participants. At the same time, there were a few key discoveries worth noting that might be helpful for those leading in multicultural contexts. I'll share three of them and then make an observation.
First, the Importance of Vision for Team Inclusion
The first finding was that inclusive leaders need to be sure every team member knows and is inspired by the vision.
All four participants mentioned the importance of vision as a vital component for vibrant multinational teams, and two spoke at length about this topic. Especially when dealing with a divided and diverse team, leaders need to put in extra effort to help everyone rally around a common vision.
This process goes best when either the leader inspires the team to work together as a group to build the vision or when there is a compelling vision from higher up in the organization that can be unifying. In terms of team diversity, when there is strong belief in the vision, people have a compelling reason to work through the challenges of creating inclusion in order to accomplish their shared goal.
The importance of vision for a team relates to the GLOBE research, which sought to find the most culturally endorsed style of leadership. They determined that the top leadership style accepted across the globe is "Charismatic/Value-Based Leadership" which "reflects the ability to inspire, motivate, and expect high performance outcomes from others based on firmly held core values.
It includes the following six primary leadership dimensions: (a) visionary, (b) inspirational, (c) self-sacrifice, (d) integrity, (e) decisive and (f) performance oriented."
Clearly, vision is important, and the inclusive leaders I spoke with said that it was vital for their leadership of multinational teams.
Second, the Significance of Shared Experience
The second finding related to the environment that is created by Inclusive Leaders and the resulting ability for new people to easily join and contribute to the team vision.
Two participants told stories of how they saw the relational bonds of the team develop as they experienced shared events. One of those leaders had a team that was flung across the globe and only gathered a few times a year.
They would begin their meetings with extended conversations and updates about their work. This allowed the disparate individual experiences to become the group's experiences as they reflected together about how the team's efforts were playing out in their variety of contexts.
The second leader described how he was tasked with leading a team that was in extreme conflict. First, they spent time creating and agreeing to a shared vision. Then, after five years of shared experiences working on that vision, he saw that the entire team culture had shifted. Where once people were yelling and crying from being hurt in meetings, now there was enjoyment and unity.
The shared experiences led to a visible difference in the team such that newcomers would then see the unity and experience the diversity as a positive. Original members would tell stories of the team's shared experiences almost in the same way a family might pass down their history. At the same time, the veterans didn't pine for the old days but celebrated the unique contributions of the new younger team members. Old and new alike respected the other.
The ease of integrating new people into a visibly inclusive environment was echoed by another participant. When new people visited his multinational church, they witnessed the community enacting a shared experience where cultural diversity was celebrated.
Even if a person's particular cultural background was not represented in the original group, the visually inclusive community communicated that diversity was welcome.
Team vision gets lived out through the shared experiences of the team members.
Third, the Necessity to Avoid Assumptions
The final finding was really about what not to do: don't make assumptions. Two of the participants specifically advocated using care when applying the cultural dimensions found in the intercultural studies literature. Instead of assuming a person from a particular background will think and act a certain way, we need a more humble approach that seeks to celebrate each culture rather than focus on comparisons between them.
Another participant gave an example of avoiding assumptions when working with people with the same cultural background, such as a two different British Koreans:
We might initially think they would be culturally similar. However, one might be much more connected to the Korean heritage because of family relationships, while the other might come from a family that was more assimilated into mainstream British culture. While cultural dimensions might provide some helpful framework, reality is often different. Therefore, an Inclusive Leader does well to avoid cultural assumptions.
In summary, the Inclusive Leader cultivates team inclusion through elevating shared vision, encouraging shared experiences that unite the diversity, and avoiding assumptions about cultural backgrounds. While these might be challenging tasks, they are actions and skills which anyone could develop.
Certainly, these four Christian leaders and their team members all experienced the challenge and discomfort of diversity at some level. However, the benefits of an inclusive team gave them hope and a willingness to push through the difficulties. These leaders reasoned that the results were well worth their efforts.
Christina Walker is the Associate Director of Academic Programs at the Billy Graham Center.
The Exchange is a part of CT's Blog Forum. Support the work of CT. Subscribe and get one year free.
The views of the blogger do not necessarily reflect those of Christianity Today.