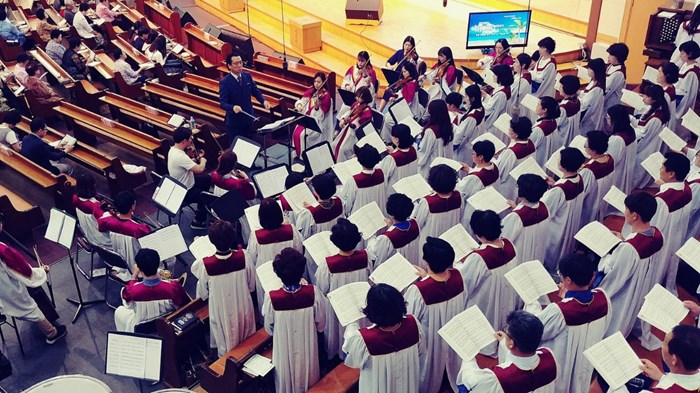 Image: via Pixabay
Ed: So first, tell me how the Getty Music Worship Conference, Sing!, went a few weeks ago.
Keith: It was amazing. We had a wonderful lineup of speakers. But most importantly, it's really helping individuals, families, and churches to grow and thrive. It was year two of five for the conference and the theme was taken from the Psalms.
We had three different groups in attendance. We had those engaged in theology who were looking at really deep and rich theology. We had artists and vibrant artistry—those who are creatives, musicians, or involved in choirs and orchestras. Then, we have leaders of music in churches and in homes. We had a lot of worship leaders in that group, but we also had over 400 people who lead children's music as well.
When these three groups come together, it's an extraordinary and innovative explosion. You end up with these beautiful moments of inspiration, color, and beauty, combined with such powerful, thoughtful praise. The dissection of all that happens during the conference takes place in seminars, late at night, and over meals throughout our time together.
All of us ended up experiencing the peace of the Lord and a reassurance that this was an important event. It's really been a privilege to be a small part of it.
Ed: For next year, you're leading in with the theme about the life of Christ. Tell me more about this shift.
Keith: Well, I originally put together a five-year plan.
For the first year we decided to look at the congregational singing 500 years after Luther and the Reformation year. Then, we took on the Psalms, because that's the Bible's songbook. In year three, we're going through the life of Christ, and in year four we will be singing through the Scriptures. Finally, in year five we focus on singing through the ages.
Next year, we're taking the main themes from the life of Christ and looking at them as a means to help teach people to understand not only the basic beliefs of our faith, but also how to sing them.
For example, when we're looking at Christ's birth and prophecies, we think about how we can apply those events to Advent and Christmas celebrations in our churches. We look at the incarnation and how that applies to everything from mercy ministries to our interactions with our communities, and, last but not least, how to have it involved in our singing.
The saving life of Christ also speaks to how to interact with evangelism and missions. Last, we will look at how Christ's sufferings and death also influence the ways we choose to celebrate the Lord's Supper, Holy Week, Lent, and Good Friday.
At one level, it's very confessional and involves the building of a creed that the church can understand. But it's also very practical.
On Monday night, we will take over the Grand Ole Opry for a wonderful mass celebration of Christmas. We're also doing a Psalm twice and singing through Handel's Messiah.
The second night, we will bring everyone to downtown Nashville to the Bridgestone Arena. There will 16,000 people singing in the rain with John Piper talking about the Resurrection.
Finally, on Wednesday we will be looking at the return of grace while being led by Joni Eareckson Tada.
Ed: How did this conference come to arrive at its current size and scale? We've moved beyond many traditional forms of worship in the church; common worship practices nowadays involve dark rooms, synthesizers etc. But you are like this wandering prophet calling for a different way and all of the sudden tens of thousands of people are headed that way.
How exactly did all this happen?
Keith: The question to me is not why Sing! is a big deal, but why wouldn't it be?
It is beyond my understanding why the confessional church across the board—and that includes the Reformed, Southern Baptist, and Anglican church communities—don't consider worship to be worth critically thinking and speaking about. When it came to the Reformation, these folks wanted to talk about inerrancy, the message of the faith, theology, church history, and ecclesiology, but nobody would talk about singing.
Yet, when you look at the reformers, from Luther on, we see something different. Luther actually believed that the Reformation would happen by putting the Bible in the center of the church. But, as he saw it, the teachers would teach it and the Bible would be carried out of the church through the songs that were sung.
Luther's whole idea was bringing the Bible back to the people, and this included the uses of songs. The people who sing to the Lord and to one another build deep relationships and families.
Ed: OK, so you just mentioned family. You guys are dropping albums like I'm dropping tweets. One is The Getty Kids Hymnal Family Hymns Sing. Tell me more about this.
Keith: That's the series we started to help begin kids singing. This Getty Family Hymns Sing is basically what we do with our girls. We take a hymn and sing the hymn every night for the whole month.
This month's hymn is "All Creatures of Our God and King." We sing it every night and have fun with it, but what's happening is that our girls learn the basic doctrines of the faith in ways that are beautiful, memorable, and irresistible. They commit these to memory.
More in part 2.
The Exchange is a part of CT's Blog Forum. Support the work of CT. Subscribe and get one year free.
The views of the blogger do not necessarily reflect those of Christianity Today.