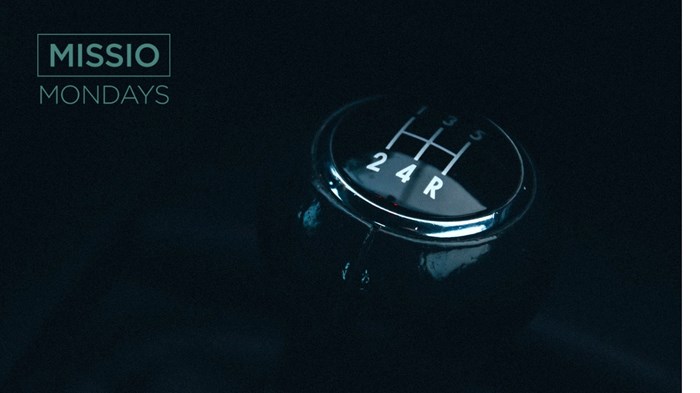 Image: via Creative Commons
Cars rarely operate in neutral, but churches do all the time.
Maybe this is because neutral is the normative posture of those who make up the church.
It's common to hear people speak as if there are three possible positions for life in relation to God. Some are in drive—moving forward in active obedience to the Great Commission. Others are in reverse, demonstrating rebellion against God's authority and living to undermine God's mission in the world. The rest are sitting in neutral, somewhere between drive and reverse.
Those in the first position are the missionary superstars of the church. They preach, lead, or better yet, they go across the world to take the gospel to those who've never heard. Those in reverse are clear enemies to the gospel. They flaunt their depravity through heinous acts that are universally decried as wicked.
Then there's everyone else—the mass of humanity who saunters through life in a seemingly neutral posture.
Some of these neutral people profess faith in Jesus yet perceive of their existence as morally and missionally neutral, devoid of meaning most of the time. Others do not believe, however their posture toward life differs little from their neutral, supposedly believing friends. They simply live making decisions and investing time in ways that have little significance beyond the meagre reach of their influence, or so they think.
I (Jeff) write about these themes in my book, Kingdom Matrix, where I suggest that, contrary to this tripartite way of thinking, there are ultimately two, not three, kingdoms in which we can live.
The first is the kingdom of God wherein our lives are caught up in the grand mission of God and infused with worth, value, and significance by virtue of this reality. The second is the kingdom of darkness that defies God's authority and works to undermine or abate God's mission through volitional sin or passive apathy.
Far too often we believe in a third kingdom, "a grey territory that would contain the bulk of my time and energy. Not good. Not evil. Just life…The problem with the Third Kingdom is that it doesn't actually exist" (pg. 28).
My conclusion, while validated by Scripture's testimony, falls on deaf ears far too often. What happens if we believe this third kingdom defined by missionary neutrality actually exists?
We Compartmentalize Our Lives
The impetus for the pervasive sacred-secular divide is found in neutral. If we erroneously believe that the majority of life is spent plodding through secular activities divorced from God-consciousness, then it's easy to rationalize neutrality.
The secular domain, so the logic goes, is morally neutral throughout, thus those activities that take place in the majority of our lives spent in what's typically categorized as "secular" could be quarantined off from those few activities that are overtly Godward and, as such, are either moving forward (honoring God) or moving backward (dishonoring God).
But if, as I'd submit, all of life is sacred and every activity, down to the most mundane, is done as an act of worship unto the Lord, then everything we do either propels God's mission forward and fosters universal praise of his greatness or hinders the embodiment of his kingdom on earth as it is in heaven.
We Confuse Mission
Neutrality also confuses the mission of God's people, suggesting that mission only applies to missionary superstars who devote the totality of their lives to gospel proclamation or to those actions by all the rest of us that fit the normative categorization of evangelism.
As such, only about 1% of the average person's life would count at "mission," and that percentage would only apply to the five-star Christians. The other 99% of our investment would not count—time spent showing hospitality, jump starting a neighbor's car that won't start, opening our hearts and our wallets to the widow or orphan, or sitting on a kid's bed comforting them in their tears.
If we remove neutral from the vocabulary of the church, we reframe all of life as mission and animate all of life with God's missionary purposes.
We Miss Joy
The economy of the kingdom of God redefines value. Those who participate in short-term missions often get a little taste of this truth. They invest money, travel to an unfamiliar context, and give a week to serve in ways they'd gripe about back home.
The result: Joy. Great joy. Joy found in pouring themselves into work that matters. Joy in storing up treasure in heaven. Joy in a sense of participation in God's mission to save sinners and fix the world.
Joy and mission go hand in hand. When we claim to live in neutral we miss the joy God intended for his people.
If all of life is mission and mission is found in all of life, then we can experience joy in the trivial, hope in the mess, and peace in a life well-lived.
Language shapes culture, as evidenced by the fictitious sense of "neutral" among those who profess faith in Jesus. If we take neutral out of our vocabulary, it forces a reappraisal of every aspect of life in light of the key question: Is this enhancing or undermining the mission of God? There's no place for neutral in that answer.
Jeff Christopherson is an author and Chief Missiologist and Vice President of the Send Network. He also serves as Co-Executive Director of the Send Institute, a partnership of the Billy Graham Centerat Wheaton College and the North American Mission Board.
Matt Rogers is a pastor at The Church at Cherrydale in Greenville, South Carolina. He has a Ph.D. in Applied Theology from Southeastern Baptist Theological Seminary, an M.Div. from Southeastern and an M.A. in Biblical Counseling from Gordon-Conwell Theological Seminary.
The Exchange is a part of CT's Blog Forum. Support the work of CT. Subscribe and get one year free.
The views of the blogger do not necessarily reflect those of Christianity Today.