Lausanne
Lausanne North America (L-NA) is committed to extending the influence and passion of Lausanne International by connecting influencers and ideas on mission and evangelism for Christ and His Kingdom.
Read more from this column.
via Creative Commons
As a result of the Lausanne Consultation that took place in Pataya, Thailand, in June 1980, where many gathered to consider issues connected with global evangelization, several booklets emerged with titles such as Nominal Christians among Roman Catholics, ... among the Orthodox,... among Protestants, as well as others looking at Traditional Religionists in various countries and continents. The first International Lausanne Consultation on Nominalism took place in England in December 1998, and the Second Consultation was held in March 2018, in Rome.
But what is nominality?
The concepts of "nominal Christian" and "notional Christian" have been around for a long time, but have largely dropped from extensive use in the last few years. Nominal Christians were originally defined as those people who "were church members and believed in God but who never attended church(except perhaps at Christmas or Easter),"while notional Christians were those who "believed in God but who never attended church and do not necessarily make any effort to follow the Christian ethic (perhaps because they confuse 'Christianity' with 'Britishness')."
Numbers for both were estimated along the following lines for the U.K.:

The figures in Columns A and F total 100%, representing the entire population. Column A is the total of Columns B, C, D and E; Column F is the total of Columns G and H. Regular churchgoers are the total of Columns B and C (from Church Censuses, the split relying on sample surveys). Church members are the total of Columns C and D (the total coming from published figures summarizing the many individual denominations). None of these definitions are watertight. Figures for 1980 and 1990 were first published in 1997, but have been updated; figures for 2000 and later are based in part on the 2001 and 2011 Census figures.
The figures in Column A are critical. The 2000 figure of 72% comes from the 2001 Population Census. The 2010 figure is taken from the 2011 Census (which put it at 59%), but it is at odds with the figure from British Social Attitudes (BSA), which would put it lower.
The forecast 2020 figure is based in part on the number of church funerals and the age of churchgoers, and the number likely to join the church in the 10 years leading up to 2020.
The key trends are the declining church membership (Columns C + D), churchgoing members declining faster than non-churchgoing members, the declining proportions of nominal and notional Christians (Columns D and E), and the rapidly increasing number of non-religious (Column H).
European figures
While global equivalents for the numbers in Table 1 are not generally available, some have been published for some of the countries in Europe. The publication of the first two parts of the European Churches Handbook¹ enabled figures for 1980 and 1990 along the lines of Table 1 to be compiled, and are reproduced below in Table 2. Figures for later years are unfortunately not available. The figures are collected into three broad groups of countries: Western Europe, Scandinavia, and North Western Europe.
Table 2: Religious Structure of Various European Countries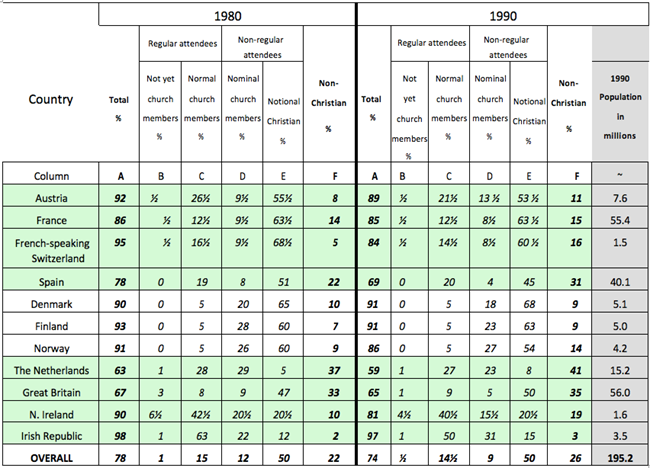 The Table shows much larger proportions of nominal Christians in Scandinavia, along with the Netherlands and both parts of Ireland, than in the other western countries of Europe including Britain. The situation did not change greatly in the 1980s. Notional Christians on the other hand were more uniformly distributed across these 11 countries except for the Netherlands and the Republic of Ireland. The letters in the columns correspond to the same letters and columns in Table 1.
Reasons for the trends
These trends are well known, but interpretations differ. In the last 30 years, many explanations of what is happening have been suggested including:
Grace Davie wrote Religion in Britain since 1945, (1994) with the subtitle "Belonging without believing", a phrase literally used worldwide to describe many nominal people, and not just of Christians!
"Vicarious Religion," based on Grace Davie's Religion in Modern Europe (2001), people going to church on behalf of others.
Are people religious or spiritual? What do these words mean? Can people be both? Much research and discussion on these terms has taken (and still takes) place, Grace Davie and Paul Heelas being key authors (such as Predicting Religion in 2003).
Paul Heelas and Linda Woodhead (The Spiritual Revolution, 2005) with the subtitle "Why religion is giving way to spirituality" from their study of Kendal churches.
Linda Woodhead suggests four types of Christian people (The Tablet, Dec 2012): Moral Christians, Ethnic Christians, Cradle Christians and Faithful Christians.
The concept of invisibility, from Steve Aisthorpe's Scottish study published as The Invisible Church (2014), but a theme introduced by Patrick Johnstone of Operation World in his 1986 edition and followed through in later editions.
The trendy position today, especially for those under 30, is to say they have No Religion, the so-called "Nones," numbers highlighted by the Population Censuses of 2001 and 2011 in many countries. Researching them, however, shows many still actually believe in God, a soul, life after death and so on.
Although the concepts of nominalism and nationalism may first have been tabulated in the 1980s and applied to Christianity, the reality has existed for longer than the last 40 years. All religions have a group of those who seem to be at the periphery or tail end of belief. It is belief rather than attendance which describes a nominal or notional person, a less committed or personal belief in one's religion, an unwillingness to accept all its various formularies.
In Christian terms, this will probably mean not reading or even accepting the Bible as the authoritative foundation for belief.
'How do we reach people who are nominal Christians?' was the question the Lausanne Movement asked back in 1980 and is worth re-asking today. The answers are much the same now as then, and much the same as seeking to reach anyone with the good news of Jesus Christ – explaining the forgiveness he has to offer through his death by repentance of sins and re-birth by the Holy Spirit, whether that be presented in traditional church, Fresh Expressions, Messy Church, in "reaching" courses such as Alpha and Christianity Explored, or in mega events such as J John's in the Emirates football stadium outreach in the UK in 2017.
¹European Churches Handbook, Part 1 (Denmark, Finland, France, French-speaking Switzerland, Norway and the UK) and Part 2 (Austria, Netherlands, N Ireland, Republic of Ireland and Spain), published by MARC Europe, Bromley, Kent in 1991 and 1992 respectively, based on the publication of individual church handbooks for each of these countries. The third volume was never published.