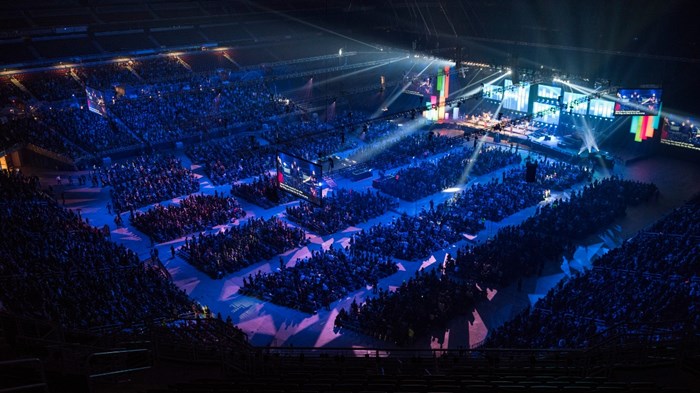 Image: via InterVarsity Christian Fellowship
Ed: Ministry on 2,500 college campuses is a huge goal. Can you share a bit about how InterVarsity came to this calling?
Tom: When I became president of InterVarsity in 2016, I started praying with InterVarsity's leadership team about where we were as a ministry and what God wanted to do next through us.
Right now, the Spirit is doing tremendous things on campus. By God's grace, we have over 1,000 chapters on almost 700 campuses, and are planting ministry on new campuses around the country.
And record numbers of students and faculty are making first-time decisions to follow Jesus in our chapters, more than at any other time in our 77-year history. This propulsive energy has been exciting to watch.
At the same time, as leaders fasted and prayed together, God kept returning us to a challenging truth: 53 percent of the 2,500 U.S. campuses with more than 1,000 students still have no campus ministry to speak of.
That really broke our hearts. By 2030, we want high school seniors to be able to enroll at any college in the U.S. and find a loving, vibrant, missional Christian community waiting there to welcome them. We want every student and faculty member to have the opportunity to hear the gospel and experience the hope of Christ.
So our 2030 Calling is this: Longing for revival, we catalyze movements that call every corner of every campus to follow Jesus.
Ed: Why do you think it's possible to reach all 2,500 campuses?
Tom: The starting point for us is the extraordinary goodness and strength of God, who wants to do immeasurably more than we can ask or imagine. We recognize that God's heart breaks for these campuses even more than ours do.
InterVarsity is pursuing a vision for which we have to rely on the Lord completely, trusting in his strength and his love for students and faculty.
Second, God is inviting us into deeper humility and partnership. We cannot reach these campuses with the gospel on our own. That's just a fact. There can't be any hint of pride or territorialism in this.
Instead, God has been reminding us that his mission on campus is something he's graciously allowed us to join him in. It's a gift, to be joyfully shared with others.
And as we started to talk to friends in other campus ministry organizations, we found that they were hearing similar things from the Lord and wanting to partner in new and deeper ways as well. So we're heading into this humbly, asking other co-laborers to bring their gifts alongside of ours to reach 2,500 campuses.
Ed: So you're open to partnering with other organizations?
Tom: Yes, absolutely! To reach these 2,500 campuses, we need to work alongside local churches and other campus ministries, and with volunteers and alumni. One step we've already taken is partnering with Cru in launching a nationwide prayer platform at EveryCampus.us.
Together, we will invite thousands of intercessors to pray for every college and university. Already we've heard from many Cru staff around the country about how encouraged and excited they are for this new season of collaboration.
Ed: You mentioned gifts and strengths just now. What distinctive strengths do you think InterVarsity brings to the Body of Christ?
Tom: That's a great question. A couple things come to mind. One is our commitment to reflecting the full diversity of God's kingdom. Right now, 53 percent of our students are people of color or international. Multiethnicity has been a longstanding core value of InterVarsity, and while we're still growing and learning, I think our movement reflects God's heart for people of every culture and ethnic background in a way that other parts of the church would like to grow toward.
We have some institutional wisdom and humility—gained through mistakes and repentance and careful listening—that, I hope, makes us a helpful voice as our culture talks seriously about those issues.
Another is our long tradition of engaging the ideas and ideologies of the university, knowing that those ideas will eventually go on to impact culture and influence society. This is reflected specifically in InterVarsity Press and our ministry to graduate students and university faculty.
For much of our history, we've helped foster healthy campus dialogue around issues of truth and spirituality. The civil exchange of ideas is the highest ideal of the academy, and it's one that we've long tried to embody in our ministry, as well as participate in.
Acknowledging these strengths is crucial, ironically, because it reminds us that, while InterVarsity is good at lots of things, we're not the best at everything—nor did God intend us to be!
Partnership is a core piece of his plan. If our ministry doesn't reflect this truth, then we're not doing God's work in God's way. Other ministries have God-given strengths and distinctives that we don't, and ministry on campus is not truly whole until we welcome all those gifts to the table.
Ed: It's early, but do you have a sense for how this calling has been going so far?
Tom: We're very excited about the innovation around planting that the 2030 Calling is encouraging us toward, and about what we're seeing God do on campus. One of the things God has confirmed for us is that, as much as our culture has changed, the core needs of students and faculty haven't.
They're as open to having spiritual conversations as ever, and just as hungry for meaning and purpose in their lives.
As just one example, we can look to the state of Louisiana, where for many years InterVarsity has had virtually no campus presence. Yet in the first few weeks of this new school year, in response to our replanting work there, God has already raised up hundreds of missional students on five campuses across the state.
We're seeing breakthrough like that all over the country. And last year, we saw nearly 4,200 students make first-time decisions to follow Christ, from artists and athletes to international and Greek students.
That's very encouraging. So we're trusting God to grow stories like these exponentially by 2030, and praying that the real hope of Jesus will reach students and faculty in every corner of every campus.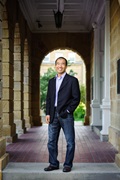 Tom Lin serves as President/CEO of InterVarsity Christian Fellowship, and serves on the boards of Fuller Theological Seminary, Crowell Trust, and the Lausanne Movement. In previous roles, Tom has worked at Fortune 500 companies, pioneered an evangelical student movement in Mongolia, and directed the Urbana Student Missions Conference.
The Exchange is a part of CT's Blog Forum. Support the work of CT. Subscribe and get one year free.
The views of the blogger do not necessarily reflect those of Christianity Today.