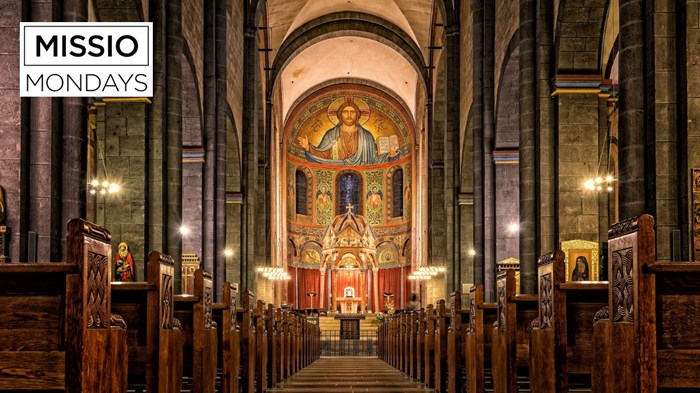 Image: Via Creative Commons
Cultures are often defined by their sacred spaces. Think of the majestic cathedrals throughout Europe—their vast ceilings and ornate wall coverings testified to the grandeur of the God worshipped inside.
But sacred space is not limited to religious buildings. Some vividly recall formative conversations of spiritual significance that took place on a sunny back porch, or in grandma's spotless living room. Infused with intentionality, these ordinary spaces were instilled with spiritual significance and meaning that bubbles to the surface with every remembrance.
James K.A. Smith, in his book Desiring the Kingdom, argues for the necessity of such spaces in shaping the pattern of worship among God's people. Because people are not "brains on a stick," Smith suggests, their love for God is fortified through imagery, beauty, structures, and symbols that influence the heart in profound ways. One cannot help but think of the way a towering cathedral puts us in a place that creates an awe-inspiring sense of God's otherness.
Sacred space can be powerful.
But there's also a downside to sacred space. The pesky adjective "sacred" spells out the troubling issue.
God in a Place
Due to the spiritual significance of a place, we're prone to believe that God is confined to a place. There are certain places, the sacred ones, where God acts, where his presence is felt, and where legitimate worship takes place. The unfortunate byproduct of this is a devaluation of all of the other places, where God seems less impressive, if not absent altogether.
Grandma's living room gives us a helpful category shift. Few would see that space and mentally equate it to the spiritual, sacred realm. Often, these doily-covered living rooms were stylistically quaint, yet bursting with warm and loving memories. The space became special because grandma was there, and so was her God. His grace and mercy permeated the conversations that took place in the ordinary, yet significant space, and your life was forever changed.
Any space can, and does, become sacred when it's animated by God's presence and activity through the lives of a submitted people.
Any space can, and does, become sacred when it's animated by God's presence and activity through the lives of a submitted people.The Apostle Paul compellingly pressed this theme in his address at the Areopagus:
The God who made the world and everything in it, being Lord of heaven and earth, does not live in temples made by man, nor is he served by human hands, as though he needed anything (Acts 17:24-25).
So, God is not confined to a space, nor is he defined by a space—yet he often acts in a space. The temple is a vivid illustration of this reality. No structure can contain an omnipresent God, yet God willing choose to demonstrate his glory in and through the temple as a precursor to what was to come. The indwelling work of God's Spirit in his new temple was the people of God—the New Testament church. The indwelling of the Spirit does not negate the value of a space, rather it sends the church on the road to permeate every space with his presence.
Certainly, the spaces believers gather for worship each week can be such a place, whether a warehouse, a rented high school, a one-thousand seat auditorium, or a reclaimed church building with water-stained ceilings. When God's people gather in worship, these spaces can be filled with supernatural significance.
God in Irreligious Spaces
But, the same applies to all sorts of other spaces, often considered secular.
Any place can become sacred. The kingdom of God can advance as quickly from a vinyl barber's chair as it can from a walnut cathedral pew.
God can demonstrate his mercy at the end of your neighbor's driveway when you offer a shoulder to cry on to a would-be mom suffering the debilitating pain of yet another miscarriage.
God can unveil his might as you stammer unimpressively through a gospel conversation on your back deck over a cheeseburger with a neighbor.
God can meet you in the coffee shop when you voice a quick prayer on behalf of a troubled girl who's clearly craving attention.
Driveways, back decks, and coffee shops can all become sacred spaces when God's people live with missionary intentionality. Of course, it's not the place itself that matters, but the power of God at work in and through a submitted people.
Any place can become sacred. The kingdom of God can advance as quickly from a vinyl barber's chair as it can from a walnut cathedral pew.The status of the space is never the determining factor. The standing of our submission governs what is sacred.
Who knows, some might look back at these mundane spaces with a grateful tear in their eye as they reflect on a sacred journey that started because of your spiritual faithfulness in the most ordinary of places.
Jeff Christopherson is an author and Chief Missiologist and Vice President of the Send Network. He also serves as Co-Executive Director of the Send Institute, a partnership of the Billy Graham Centerat Wheaton College and the North American Mission Board.
****The ideas in this article serve as the basis for a forthcoming book by Jeff Christopherson, to be published by B&H Academic in 2020.
The Exchange is a part of CT's Blog Forum. Support the work of CT. Subscribe and get one year free.
The views of the blogger do not necessarily reflect those of Christianity Today.