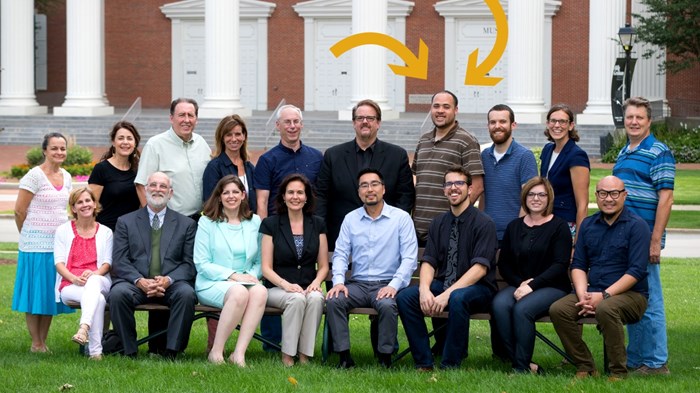 Image: Michael Hudson/Canva
"Who is Ed Stetzer?" That was one of the first questions I asked the Human Resources department at Wheaton College after the school reached out to me about a Managing Director opening at their Billy Graham Center. Before then, our paths had never crossed. Why should they have crossed? I'm a Black guy raised in the National Baptist Church world. He's a White guy who was Southern Baptist Convention affiliated.
And maybe that's the rub. Two denominations. One created because of the racial animus of the other, mirroring other denominational trends that led to the necessary creation of the Historically Black Church. But here we are several decades later, by God's providential grace, working together at the Center. Talk about irony of ironies.
Billy Graham is one of Ed's most beloved figures. Martin Luther King, Jr. one of mine. Both shared an affinity for one another that I feel was reflective of the relationship between Ed and myself. There were days when Ed would blast classic 80s rock n' roll and I'd throw a well-timed cultural counterpunch with the smooth sounds of Miles Davis. We couldn't be more different, but God saw fit to bring us together—brothers in the Lord.
I've also consider the other employees at the Center to be my brothers and sisters. I got to spend the past two and a half years serving alongside this amazing team of men and women. Every member of our staff is passionate about gospel witness and equipping others for effective gospel witness. My time here with them has been both enriching and life-giving.
With that said, I have decided to spend the next season of my life in local church ministry and am stepping down from my position here at the Center. For me, this transition is bittersweet. I love our team and I love serving as a leader at the Billy Graham Center, but pastoral ministry calls and I am finally heeding that call.
Still Hopeful
About a year ago, I wrote a piece here on Ed's blog about being Black and tired in Evangelicalism, yet hopeful. Even as I leave the Center to use my gifts in the local church setting, I am still hopeful about the unique work our team is doing. I'm hopeful that the tribe we've built through hosting the largest interdenominational gathering in North America that focuses on gospel sharing continues to grow and thrive. I'm hopeful that our ability to convene leaders from various evangelical denominations serves as a model for others, demonstrating ways to have conversations "across the denominational aisle."
I'm also hopeful that the time I spent here at the Center might serve as an example of how to work well with others who you might not always agree with on certain issues. As you probably know, Ed and I didn't always see eye-to-eye on social issues. Just ask our friends Colin Kaepernick and Brett Kavanaugh. But I can say without equivocation that during my time at the Center we have concentrated our collective gazes on the Cross of Jesus, making Jesus known to a broken and hurting world. And for that I am grateful.
Colliding Cultures
While the writer of Ecclesiastes reminds us that there is a time and season for everything, it doesn't make transitions easier. Though my time here at the Center ends soon, I'm grateful for the eternal friendships I have forged with men and women I would go to bat for any day of the week—and, as we say in the South, twice on Sunday.
I'll be honest, I'm going to miss that classic rock n' roll playing next door (admittedly, I rarely knew any of the songs). But I'll be sure to leave Center employees my Miles Davis playlist as a reminder of my personal mantra: When cultures collide, the Kingdom of God thrives. May God continue to grace the Billy Graham Center with men and women passionate about gospel work.
John C. Richards, Jr. has served as the Managing Director of the Billy Graham Center at Wheaton College since 2016. He is a graduate of Morehouse College and Howard University School of Law and serves on the Board of The Witness: A Black Christian Collective.