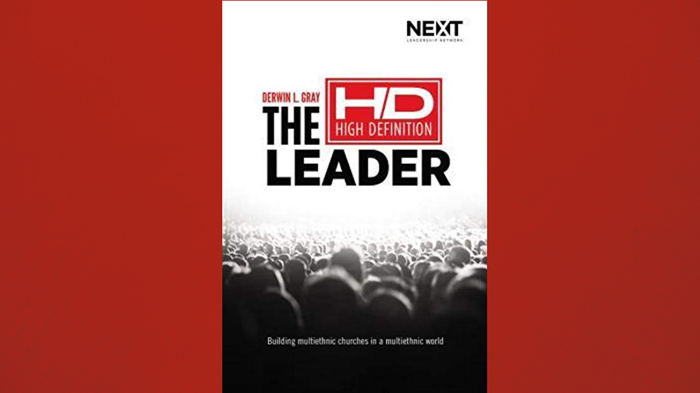 Image: Harper Collins Publishing/Canva
Ed: Tell us a bit about how your journey shaped your leadership.
Derwin: Leadership is an autobiography that God, in his providence, shapes us to be who we are through our circumstances and through our environments. With that said, I grew up in the hood—the west side of San Antonio, Texas, to be exact. In the hood, it was normal to grow up in poverty and on welfare. In addition, being in the hood lent itself to witnessing lots of violence, substance abuse, and brokenness.
At the age of 13, I told my grandmother that I didn't want to be like my family. It's not like we were a strong family unit; we were very fragmented. And there was no spiritual guidance. As a youth, the only way I saw getting out of this broken environment was through football. That's what I pursued, and football was what I excelled in. So much so that I received a football scholarship to Brigham Young University.
After I finished at BYU, I was drafted in 1993 by the Indianapolis Colts. For me, I thought that I had reached the pinnacle of life. I had fulfilled what I thought was the good life—happiness, fame, wealth. However, about three years in, I was existentially empty.
During this time, I had a teammate who would share Christ with me. On August 2, 1997—because of the faithfulness of this guy—I came to faith in Christ. Since then, my life has never been the same.
I started reading my Bible. I retired from football and ended up attending seminary. I also started traveling and speaking. After a while on the road, something began bothering me. It seemed that everywhere I went it was either an all "white" crowd or an all "black" crowd. There was no diversity. Yet, when I read my Bible, it described the early Christian communities in a multi-ethnic sense—Jews and Gentiles.
I had a "Popeye" moment—I had 'alls' I could stand, and I could stand no more. I sensed God telling me in my frustration, "Why don't you do something about it?" And that's when my journey of planting what is now Transformation Church began. Transformation Church is an intentional gospel-shaped, multi-ethnic, and multi-generational community of faith that seeks to be an eschatological picture of what is to come.
Ed: Talk to me about leadership.
Derwin: The best leadership courses I've taken have been in football. My high school coach taught me the power of vision casting, my college coach taught me the power of delegation, and one of my NFL coaches taught me the power of administration and organization. My other takeaway regarding leadership—regardless of what leadership role you hold—is embodying what you want others to become.
Ed: How did you help lead Transformation Church to be the multi-ethnic congregation it has become?
Derwin: I go back to an element of leadership: embodying what you want others to become. Before my wife and I planted Transformation, we led a multi-ethnic life. So, we embodied what we wanted to become. That's at least where we started.
Second, we teach people about God's vision for humanity, and how his vision is to restore humanity. God desires humanity to love him with all their heart, mind, soul, and strength, and to love their neighbor as themselves.
What we did at Transformation is paint God's vision of humanity and then invited people to join in that vision. Third, our leadership team aims to build a culture where people enter into the story of God that helps them flourish as God's people.
Ed: How do you deal with cross-cultural leadership realities? Does having a multi-ethnic leadership body affect decision-making or communication?
Derwin: Before any decisions are made, there has to be intimacy in the relationship. Intimacy builds trust.
But there is also a need for vision and strategy along with roles and responsibilities that flesh out the vision and strategy. When all these elements work together—including intimacy among the team—there is great trust.
The greater the trust, the more effective we are at making decisions. Just as a side note, if there's not conflict in the decision-making process, then you're really not talking about big things.
Ed: In studying and getting to know leaders, I have found that many of them have overcome personal challenges. Does dealing with and living through these personal challenges make you a better leader?
Derwin: When I look back from where I was to where I am now, I'm as surprised as anyone that I'm a pastor. Now, I'm Dr. Derwin Gray, working on my fifth book. I think that the personal challenges really shaped me as a leader. I believe there's something to God forging powerful leaders through painful measures.
The Exchange is a part of CT's Blog Forum. Support the work of CT. Subscribe and get one year free.
The views of the blogger do not necessarily reflect those of Christianity Today.