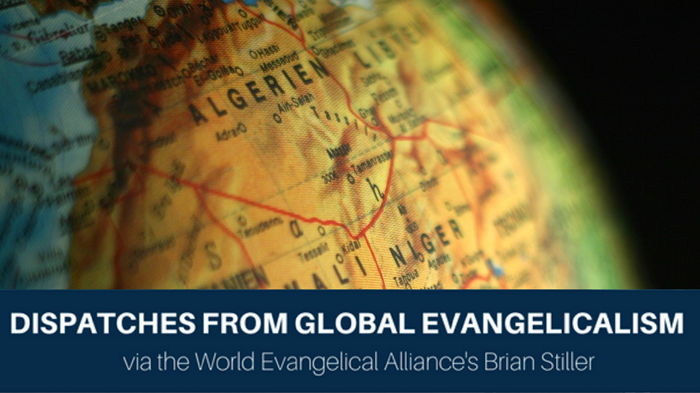 Image: 3D_Maennchen/Pixabay
Just days ago, Christians joined in a public protest against the Algerian government for shutting down churches. This is unusual. Algeria is an Islamic state. Christians here fear for their very existence. Usually they work out these matters behind closed doors. But this time it was different. Christians (specifically Protestants/evangelicals) sufficiently frustrated by the harassment of their government, took to the streets in protest.
But first, some background
Bordering North Africa, just a few miles south from Spain, across the Mediterranean, this Islamic country of 41 million was Christian by the 5th century, but the Arabs changed that two centuries later.
Experienced Protestant missionaries arrived when colonized by France in the mid 19th century. Troubled by their difficult transition to independence, some 800,000, many of them Christians, left for France during the civil war of the 1970s.
In 1972, the EPA (l'Église Protestante d'Algérie or Protestant Church of Algeria) was formed, and now is a member of the World Evangelical Alliance. Numbers show the Christian community – Catholics and Protestant/evangelicals – to be over 300,000.
With a population that is 98 percent Sunni-Islamic, the government presses to restrict Christian presence or witness. In 1990, a new law made it so that the EPA was ruled illegal. In 2006, this was exacerbated by a new ordinance which said any location where there was religious worship was illegal unless registered.
So, churches were closed, Christians arrested, and made vulnerable by the very possibility they could be charged for blasphemy: one of the most horrific charges one can receive in an Islamic country.
Closures
On Tuesday, September 24, police arrived just before noon at the Church of Boghni, sealing doors and windows. The church, a worship center for 190 under pastor Tahar Chergui, is also a worship center for 200 from a nearby village. They meet on Saturday. The pastor said,
I was surprised when one of the police officers contacted me to meet them at the site where our church is. . . I had not received any notice; they went straight to proceed with the closure by sealing. They could have warned us before; why didn't they?
The aggravating reason for closure was detailed, attached to the building.
We, the police of Boghni, inform the whole population of Boghni that the premises illegally used by the named Tahar Chergui to celebrate non-Muslim worship was closed and sealed by order of the governor dated Sept. 18, 2019. Signed by the president of district security.
Under their 2006 law, churches must obtain permission to be registered, but the governmental body has not approved any applications. To date, eight churches have been closed.
Role of the worldwide body
It is here that the WEA under its Global Advocacy Center takes advocacy to an international level. With its special consultative status at the United Nations, it engages, facing countries – in this case Algeria – who are in violation of human rights and freedoms.
Here is how it works.
Step One: A call for help comes from a National Alliance when a church is closed, a pastor killed, or a school bombed. They advise the WEA Geneva office, detailing violations and asking for assistance.

Step Two: The Advocacy Center in Geneva takes the report and verifying material and builds a coalition with other government representatives and NGOs. This helps in getting face-to-face with the violating government. And then as a public voice, they broadcast the story.

Step Three: Geneva staff, then interfacing with the UN Human Rights Department, press the offending government to respond and resolve the persecution. This can be long standing or resolved in short order.
WEA and its National Alliances
Given WEA has National Alliances in 130 countries, the Geneva office of Global Advocacy is able to connect directly to the leadership of the National Alliance and work with its leadership. In Algeria, coordinating this kind of action brings this issue to the attention of other countries.
This process is important because it forces the Algerian government to recognize that what they do is not being done in a corner. The act of signing the UN human rights agreement places responsibility on them, out in plain sight for the global community to see and hear.
What the Algerian church faces today parallels what was at play when those from 91 Christian communities met in the summer of 1846 in London to form the World Evangelical Alliance.
Inspired by the Second Great Awakening, issues of persecution were on their minds. They saw that a coalition of evangelicals could bring strength out of unity and then give courage and resilience to those enduring social pressure. Then and today, unity in the Spirit affirms we are not alone but surrounded by a "crowd of witnesses."
Formed in 2012, the Geneva office of the WEA was given special consultative status by the United Nations. Today, this advocacy center in Geneva is breaking new ground as it works alongside agencies who give voice to Christians world over.
What the Geneva center does is stand up for Christians undergoing a loss of religious freedom by giving them a voice at the international stage. This is the important add-on. The Geneva office speaks directly to countries in the UN forum, and then empowers those on the ground to act in faith and courage.
Algeria is not easy to solve. For many, their rights have been robbed, taken away. We call on governments to press the Algerian government to do what is right. You and I can help mount this awareness by asking our national representatives to be aware, and then request their governments to make their voice heard.
First, take a moment to watch these bold Christians in their public protest. Second, pray. Third, help them as they strive to achieve the lawful gathering of worship. In the video, you will hear them in Arabic sing this worship song: "How beautiful you are, you are the Holy one, the only one deserving all dignity and authority."
Their singing was done while standing in front of a government office, in a country where as a minority, they face the power and wrath of a Muslim majority government.
Brian C. Stiller is a Global Ambassador for the World Evangelical Alliance.
The Exchange is a part of CT's Blog Forum. Support the work of CT. Subscribe and get one year free.
The views of the blogger do not necessarily reflect those of Christianity Today.