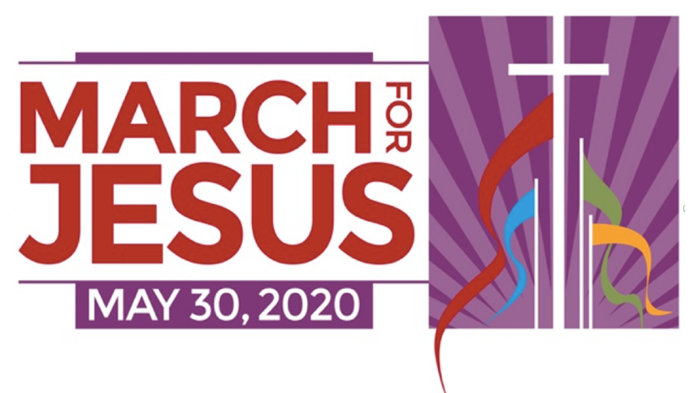 Image: March For Jesus
What is the March For Jesus? The best description I have heard is that it is "a procession of praise through the streets of the city celebrating the Royalty, the Deity, the Supremacy and the Sufficiency of Jesus Christ." It is an opportunity for Christ-followers of diverse ethnicity, race, culture, and denomination to manifest visible unity in Christ and to boldly declare his glorious majesty.
While there are many issues upon which genuine believers disagree, the one thing upon which we all agree is that Jesus Christ is Lord, King of kings and Lord of lords, and that he is humanity's only hope for eternal life.
While the Bible is clear that those who have received Christ as Savior are all "one in Christ" (John 17: 20-22), relational unity must be pursued and maintained. As Paul wrote in Ephesians 4:2, we must "endeavor to keep the unity of the Spirit in the bond of peace." We believe that this "endeavoring" must extend beyond the walls of our churches and religious institutions to include Christ-followers outside our own fellowships and traditions. The March For Jesus does just that.
May of 2020 has been designated as Go 2020 Month as believers in America and around the world will be mobilized to reach one billion people globally with the love of Jesus Christ.
It will be a month of "Prayer, Care and Share" as the gospel is proclaimed and demonstrated to those in need of the redemption found only in Jesus. To culminate this month of evangelistic endeavor, we are encouraging cities to come together beyond "Prayer, Care and Share" to "Declare" the glory of Christ by gathering to March For Jesus on May 30, 2020 (the Saturday before Pentecost Sunday).
The theme verse of the March is Philippians 2:11 as Paul declares "... That every tongue should confess that Jesus Christ is Lord, to the glory of God the Father."
This unique expression of worship, known as the March For Jesus, was birthed in London, England, when certain local churches decided to take what they were experiencing in the churches out into the streets.
Songwriter Graham Kendrick participated in some of these early attempts and wrote a series of songs that were appropriate for the outdoor expression of the church.
As the March began to expand throughout the United Kingdom in the 1980s, a group of leaders from Austin, Texas were inspired to introduce the March to American cities. It spread quickly through the 1990s, engaging over 700 U.S. cities at its zenith.
Over the past 20 years there have been many impactful local expressions of the March in a wide range of cities, towns, and villages in our nation; however, we believe that this current effort is the first attempt to revive a nationwide initiative: a National March For Jesus. It is becoming increasingly evident that the Holy Spirit is provoking a unique stirring of his church for 2020 as Christian networks are cooperating like never before.
Ministries that were once in competition (and even opposition) are now joining forces and resources to pursue the heart of God in reaching lost people with the gospel of Christ. The March For Jesus is just one of many collaborating initiatives. Hallelujah!
The March For Jesus is not a protest; the specific purpose of this occasion is to positively declare who we are for, not what we are against. The March For Jesus is not "issue-oriented"; no matter how passionately we feel about an issue, Jesus remains center stage during the March. We exclude causes we disagree with as well as the ones we believe in.
The March For Jesus is also not "celebrity-oriented"; there are many men and women who are worthy of our respect, but on this day all recognition, honor and thanks go to Jesus. He is the Name above all names!
While the March For Jesus is not a cure-all for the unity challenges crippling the witness of believers in any given city, it has proven to be a means by which the Holy Spirit cultivates a culture of "koinonia" among believers who differ on secondary and tertiary doctrinal issues.
Numerous communities can point back to a March For Jesus that served to establish friendships and collaborations that later bore abundant fruit for the advance of Christ's Kingdom. These believers have been able to work and worship together without surrendering any of their spiritual values. It's supernatural!
I would also like to submit that the March creates a climate in which spiritually hungry people can be drawn to Jesus. As we publicly lift Christ up He draws men and women to himself. The March presents the church to the world as a vital and relevant force. By declaring our faith in such a positive way Christians are encouraged and stirred to be more than silent witnesses.
Finally, the March For Jesus challenges Christians to be bold for the Savior and to celebrate his true identity. In essence, the March helps believers secure a biblically accurate Christology.
Unfortunately, in too many places, the Jesus that is preached is no more than a "super-man" who helps you live a happy life. But the Scripture is clear to announce that Jesus is much more than that; He is God incarnate, the divine Son of God, the Creator and Sustainer of the universe Who deserves sacrificial worship and extravagant praise.
Some missiologists have suggested that a significant factor effecting the decrease of the church's influence in our culture today is this mischaracterization of Jesus. The March serves to restore the proper doctrine of Christ and compels Christians to live for Him in holiness, obedience and service.
It is our prayerful expectation that hundreds of cities, communities, towns and villages throughout America will organize to March For Jesus on Saturday, May 30, 2020. To get more information and/or to register your city for a March, please go to our website at www.TheMarchForJesus.org.
The Exchange is a part of CT's Blog Forum. Support the work of CT. Subscribe and get one year free.
The views of the blogger do not necessarily reflect those of Christianity Today.