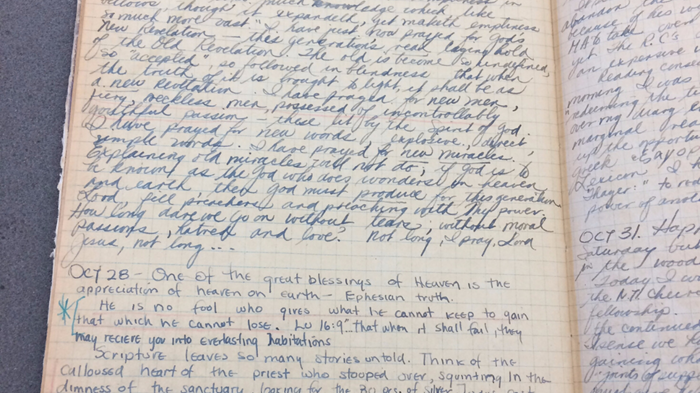 Image: Billy Graham Center Archives
Few visitors to the Wheaton College campus in Illinois—whether potential students and their families, attendees at college-sponsored events, or the general public—realize that the campus houses a storehouse of evangelical history at the Billy Graham Center Archives.
Named after pioneering 20th-century evangelist, Billy Graham, the BGC Archives was founded as a resource to pastors and evangelists, offering a glimpse into the development of evangelism methods and the figures who practiced them in North America from the mid-19th-century to the present.
Although the BGC Archives is open to the public and welcomes unexpected visitors, it remains one of Wheaton's best-kept secrets.
If the staff of the Billy Graham Center Archives are used to hearing one response from visitors, Wheaton students, and even faculty, it's this one: "I had no idea this was here!"
While the staff of the BGC Archives thrive on collecting and preserving pieces of evangelical history, the best parts of the job is introducing visitors to treasures from the archives vault—Corrie ten Boom's baptismal certificate, Billy Sunday's obituaries, Chuck Colson's correspondence, or Kathryn Kuhlman's photo albums are just a sampling of the unique items available to use at the BGC Archives.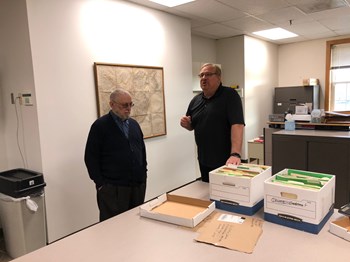 Image: Billy Graham Center Archives
During the recent GC2 Summit at the Billy Graham Center, pastor Rick Warren toured the BGC Archive and leafed through missionary martyr Jim Elliot's journal from 1949 that contains his famous quote: "He is no fool who gives what cannot keep to gain that which he cannot lose."
Since the Billy Graham Center opened in 1980, the BGC Archives has served evangelists, pastors, scholars, and the general public by providing access to one-of-a kind research materials documenting the history of North American, nondenominational evangelism and global missions efforts.
Every year, researchers travel from around the globe to study evangelists like Billy Graham or to mine the records of organizations like Youth for Christ or Prison Fellowship.
What makes the BGC Archives unique is its focus on collecting records that have traditionally been overlooked by other research libraries.
While church denominations collect their own records, many nondenominational and parachurch organizations simply do not have the resources to preserve their history, let alone make it available to outside researchers.
Often, these records are lost or destroyed, and with them invaluable pieces of American evangelical history. The BGC Archives exists to preserve those materials that might otherwise fall through the documentary cracks. After more than40 years of collecting, the BGC Archives now holds records documenting a broad range of missions and evangelism efforts.
Organizations like the Lausanne Movement and InterVarsity Christian Fellowship are perennially popular. More recently, we have witnessed renewed interest in role of American evangelicals in 20th-century global missions.
Records from organizations like Africa Inland Mission, Overseas Missionary Fellowship, or Latin America Mission are frequently requested by both scholars and laypeople. While documenting evangelical missions and evangelism is the core of the BGC Archives' collecting focus, we also hold records that chronicle American evangelicalism more broadly, such as the records of Moody Memorial Church, the Fellowship Foundation, and Evangelicals for Social Action, as well as papers from figures like missiologist Donald McGavran, theologian Harold Lindsell, and even hymn-writer Fanny Crosby.
In addition to making our current collections available to researchers, the BGC Archives is continually receiving new materials, usually faster than we can open them for research. Some new and noteworthy collections donated in 2019 include a treasure trove of Elisabeth Elliot materials, such as recordings from her Gateway to Joy radio program, lecture notes from her many speaking engagements, and years of correspondence between her and Jim Elliot written during their courtship.
We also gathered new materials from a longtime missionary to Kenya that document the growth of evangelical missions efforts in East Africa and supplement our extensive Africa Inland Mission records.
Particularly interesting are new materials documenting AIM's TIMO (Training in Ministry Outreach) program, an initiative designed to give American seminary and university students long-term experience in cross-cultural Christian service in different locations around Africa.
More recently, the BGC Archives acquired the papers of author and missionary Jane McNally, who served with The Evangelical Alliance Mission (TEAM) in India for over four decades.
After becoming the first woman to earn an MA in theology from Wheaton College Graduate School in 1944, McNally trained her sights on furthering Christian education in India, founding the Light of Life correspondence course, which grew to include over20 languages on the subcontinent.
In 2020, we look forward to opening the records of the International Fellowship of Evangelical Students, an extensive collection that required more than a year of preparation. Founded in 1947, IFES is the largest Christian campus movement in the world and currently ministers on college and university campuses in more than 170 countries.
The IFES records are a significant addition to the BGC Archives, and we anticipate this rich collection will have substantial appeal for both scholars and laypeople. While nearly half of our researchers are academics working on scholarly books, articles, and dissertations, the BGC Archives has always viewed its primary mission as connecting evangelical pastors, evangelists, and laypeople to their own history of how the Great Commission is carried out in the United States and around the globe.
As we begin our fifth decade of service, the BGC Archives looks forward to advancing our calling to preserve these unique voices as stories as a gift to the global church.
Katherine Graber is Public Services Archivist at the Billy Graham Center Archives at Wheaton College.
The Exchange is a part of CT's Blog Forum. Support the work of CT. Subscribe and get one year free.
The views of the blogger do not necessarily reflect those of Christianity Today.