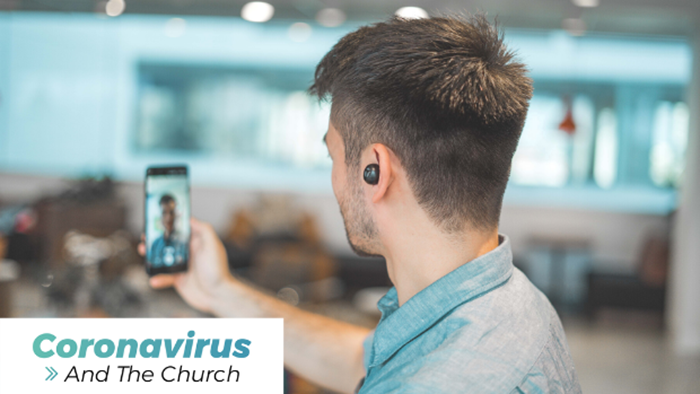 Image: Photo by Harry Cunningham on Unsplash
The rush of the past couple of weeks is beginning to slow. Churches and organizations are beginning to get traction on the new normal for this season of quarantine as they implement processes they never would have thought necessary only a month ago. Often out of necessity, everyone has become an expert at doing life online.
Yet we are learning that these shifts to remote work, church gatherings, and social communications come with challenges. Even as we connect online, what was once a strong team environment in the office can become disjointed. Even when we think we are working together to move in the same direction, members can mourn the loss of daily connection.
Moreover, the seriousness of the crisis lends itself to an almost wartime mentality: a belief that every second must be mobilized to cause. The result has been countless hours poured into work and still more frantically scanning the latest news article.
Let me be clear: Covid-19 poses significant health, financial, and organizational challenges. People are right to take it seriously, to quarantine yourself and family, and to care for others who are in need. If you are confused or need guidance in leading your organization, church, or family in the midst of this crisis, there are resources available at www.Coronavirusandthechurch.com. The church needs to give, serve, and lead in this time.
Just as crucial, however, is the burden on leaders to help their teams find points of personal connection in this time—to find joy and enjoyment in one another. At a time of intense stress and when our people feel powerless, small breaks of fun have immense power. For many of us, it's time to take a lesson from Michael Scott.
So as we are thinking innovatively about how to do church or business with these new limitations, we need a similar level of creativity in team building and de-stressing.
With this in mind, let me offer four points for us to consider in why these brief breaks for team building and fun are critical for leading your people through this season.
First, recognize what is missing when working remotely.
One of our BGC staff made the observation that when we work remotely we miss small ways to be supportive. When we're in the office, we have small moments of interaction that help relieve the pressure. Joking about a conference call that went wrong or plans that need to be adapted because someone got sick seem insignificant in the moment but represent small moments of connection and help us deal with the fallout.
Just like how we don't notice the birds singing until they stop, we don't recognize the importance of these connections until we no longer have them.
Moreover, the social isolation of quarantine exacerbates this problem. Technology is a powerful tool but it cannot fully replace the connections we make when working in real life, whether in the office or at our gym.
Good leaders will recognize that these social connections are missing and consider ways to help their team compensate. Here, it is critical to recognize that even if you have social support systems in your life during this season to meet this need, your staff or friends might not. For them, it is easy to let work or anxiety fill this vacuum unless you take the initiative by intentionally engaging them in taking a step back.
Second, help your team understand that joy and fun are still possible.
One of the most common pushbacks to taking a break for fun is that it seems trivial in the midst of such a serious crisis. After all, people are dying or are likely to die. We rightly criticize the people we see on social media who continue to go to the beach when the government warns of the dangers of such behavior.
However, what is wrong with that selfishness is in its disregard of others and idolization of "my" needs and pleasures. It is not to throw out the idea of fun entirely or to broadly label any fun as wrong. It is possible to carve out spots of joy and fun in the midst of crisis without belittling the crisis itself, to recognize that such brief windows enable us to head back into the seriousness with renewed spirits to serve.
Third, model the new work-life balance even in crisis.
In talking to a pastor recently, he noted that he had to tell his staff to stop working because he realized they were getting close to burning out. Indeed, I fear that for many of us, this quarantine has become an opportunity for us to feed our cultural idol of work.
Already slaves to the belief that more work equals more fulfillment, the blurring of lines between work/home and the severity of the crisis can be easy justifications to feed our temptation to pour our lives into work.
Whether it's because of the urgency we feel because of the virus or because setting limits for working at home when you're not used to the new environment is difficult, leaders need to make sure they and their team are pacing themselves.
Every indication is that this quarantine is going to last long and we need to confront the temptation to burn out quickly. Taking a break to do something fun is a good reminder that life will continue, the urgency will remain on the other side, there will always be more work than hours in the day.
Finally, hit the refresh button for your team.
In a meeting recently, our Executive Director Ed Stetzer noted that we are in the "ideation" phase of the crisis. In other words, we are experiencing a burst of creativity as people and organizations think creatively about how to adapt and change to the new reality. Honestly, it's exciting to watch people in our organization and in others innovate.
However, even in bursts of creativity, we sometimes need to hit the pause button for a brief window. Let your brain and body rest so that when you return to the work you are able to bring your "A" game. Oftentimes, we are poor judges of when we are running on empty so it falls to leaders to know their team and think of ways to encourage them to take a step back.
Living It Out
With this spirit in mind, the staff of the BGC hit pause for half an hour this past week to play a game of Mafia via zoom. For those unfamiliar with the game, in essence the goal is to uncover who are the traitors in the midst of the game before it's too late.
So for 30 minutes this week, the staff of the BGC took a break to figure out which one in their midst was the murderer. Not surprisingly, most of the staff quickly turned on a certain BGC Executive Director and promptly voted him out over his fervent protests. In the end, the Mafia won.
It was a brief time of levity that helped us come together as a team, de-stress from the gravity of our situation, and then re-enter our work with renewed attitudes. We've agreed to try and do a similar event each week for whoever can spare the 30 minutes, changing up the game and allowing different staff to lead.
I'd encourage you to try a similar approach with your staff, family, or circle of friends living and working from their homes over the next few weeks. Find what small activity or game that allows your people to put down their work and anxiety for just a second and enjoy one another's company and humor.
In doing so, leaders will find that it can pay significant dividends in the mental health and social relationships of our people as we adjust to this new normal.
Andrew MacDonald is associate director of the Billy Graham Center Institute.
The Exchange is a part of CT's Blog Forum. Support the work of CT. Subscribe and get one year free.
The views of the blogger do not necessarily reflect those of Christianity Today.