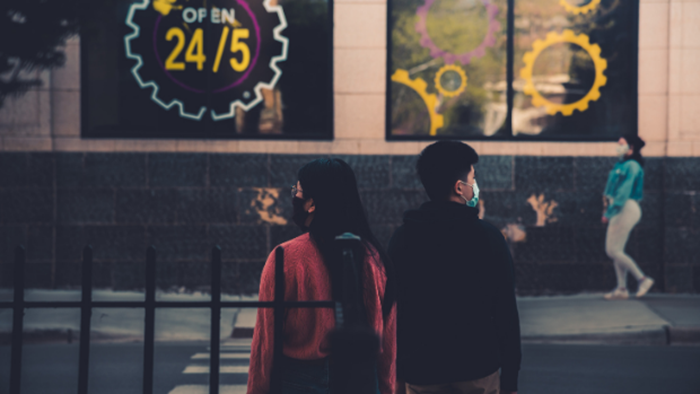 Image: Unsplash/Max Bender
How have you been dealing with life during COVID-19? Our answers to this question are likely as varied as the number of stars in the sky. Given this diversity, are there common threads around suffering for all of us? If so, what might they be? In the Marriage and Family Therapy program at Wheaton College, our students learn to consider suffering beyond an individual level and explore the nature of suffering in the context of the family system as well as the larger community and historical context.
Dr. Murray Bowen, a psychiatrist (1913-1990) instrumental in shaping marriage and family theory, understood that we are deeply emotionally connected to each other and our ability to function in this world is impacted by our relationships.
With this in mind, let's consider the question, "How have you been dealing with life during COVID-19?" from two different perspectives: Ms. Pearl Willis, an African American woman who founded and directs The Roseland Community "Good News" Day Care Center in the Roseland neighborhood of Chicago and myself, a Caucasian woman who has provided psychotherapy both in the western suburbs of Chicago as well as in Roseland, in partnership with Ms. Pearl.
Before diving into an excerpt from our conversation, let's look at the context of what life is like in Roseland. Roseland is a predominantly African American inner-city community located 13 miles south of the Loop in Chicago. This community has high unemployment rates and few local resources such as grocery stores with fresh food. Approximately 93% of children in Roseland are eligible for free lunch because their family income is substantially below poverty line ("Start Class," n.d.). Over 25% of homes are foreclosed (The Institute for Housing Studies at DePaul University, 2018). This economic vacuum draws crime and drugs. Across Chicago's 77 districts, Roseland ranks number 10 in number of violent crimes and over the span of a year (January 13, 2018 to January 12, 2019) there were 774 violent crimes ("Chicago Police Department," n.d.) in the neighborhood; by comparison, the number of violent crimes in Wheaton, Illinois, was 38 over a comparable time frame ("Wheaton Neighborhood Scout," n.d.). The community has been ravaged by concentrated crime, poverty, incarceration, and trauma (Smith, Aten, Watson, & Barnes, 2019).
Ms. Pearl's day care provides free or low-cost day care to mothers so that they can go to work or school. The day care has been serving the community for 25 years and has helped hundreds of women and children. Ms. Pearl's only requirement is that mothers attend her Bible study twice per month.
Wendy: What has COVID-19 been like for the moms and children in Roseland?
Ms. Pearl: "There are so many moms on the welfare system, at first [COVID-19] hurt them. We turned my garage into a food pantry giving out beans and rice and produce because moms weren't working, and they needed to be able to provide food to put on the table. But then they also struggled mentally to be a part of something. They wanted their Bible study, they struggled with feeling lonesome and having no one to talk with. We are still giving out food through the Agape Center [a ministry of Campus Crusade for Christ, CRU, in Roseland]."
"Then as time went on, they were able to get food stamps and financial help that they needed. But there was still the struggle of being at home, with children, and not being used to not being able to provide. But we come from a background of survival, a lot of Caucasians don't know that. I always say, if you put one of these black kids in a survival position, they will come out alive because they know what it is to survive. They know what it means to multiply food – they have no problem going back to beans and rice, lighting candles, hooking lights up to the person's house across the street. Because the person across the street was in that same position at one point in time."
"[Our kids] have to do schoolwork on their cell phones instead of computers. Most of the children didn't get computers. The schools gave computers to 'benchmark kids.' One of our high school moms had to do her schoolwork off of a cell phone and there were five other siblings in her home. They had to do Zoom meetings by cell phone. We are survival people. We are used to hard times. We have been able to get by. We refuse to be labelled as pitiful people. It is ingrained in our DNA to know what it means to make it through the hard times and rough times. We can play games in the dark with no lights and make our kids happy. We know how to snuggle up with our children when there is no heat. We wonder sometimes, 'why us? Why do we have to struggle through to make it?'"
"And when we do find a way of making it, we take advantage of it because it took us so long to get there. We don't know how to let it go because of the hard road of getting there. Welfare ravaged our community because we had such a hard time getting there. We didn't want to let it go. Welfare felt permanent, like a way of making ends meet for our kids. You could depend on it. Why not try to hold on to what you know is safe so you can make it? When our moms see their way clear of welfare, they don't see it. No one has instructed them and let them know that they made it out. They don't know that you don't have to struggle any more. That's how we live. We would appreciate it if no one looks at us as poor pitiful people, but people who know what it is to survive in good times and bad times. We may come out a little harsher or bitter, but we appreciate what we have in the end because we had to struggle for it."
Wendy: What do you want people to know who may want to help?
Ms. Pearl: "Come alongside us without judgment. If you don't know how to do that, stay home. No one wants to be belittled and looked down upon. For any counselor who comes, come without judgment and look to build up and come alongside someone and help them know what it means to survive. If you belittle and look down at them, they will take your gift and walk away, and you won't see them again. They will turn a deaf ear to it."
Wendy: How do you find it in your heart to accept people who belittle you when they come to help?
Ms. Pearl: "Its God in me. Otherwise I get frustrated too. There have been times when I was lacking reading my Word and hadn't spent time with God, where I could have said things and given them a stale taste about this ministry. God has called us to come alongside, walk with, not judge, and be that representative of Jesus Christ and let Him do the change of heart, to teach them how to talk to us. Sometimes people try to correct how I talk. I have to say to them that this is the way I talk – if there is a misunderstanding, I can share with you what I am saying, but this is the way I talk. I think that because we are representing Him, people don't leave this ministry with stale tastes – they can leave and see that God has been good to me, and surely He will be good to them too. God is good. I can't exchange Him for anything in the world."
For those like me who want to work toward connection, reverse disparity, and who want to stand with and support people who have been marginalized, here are some ways that we can do this:
Enter with a posture of humility: Do not judge. Remember we are all equal in God's eyes.
Listen: Be willing to listen and hear stories with an open mind and open heart. We all have a story.
Come to learn: Let's set aside our assumptions and learn from each other.
Be open to receiving blessings: Many people (like me) come to Roseland thinking that we are serving. And yet, our eyes are being opened to things we knew nothing about. When we support each other, we often receive blessings of connection and hope beyond what we expected or imagined.
Let's learn and internalize this message from Ms. Pearl so we can come alongside and be of good service to the Roseland community.
The Exchange is a part of CT's Blog Forum. Support the work of CT. Subscribe and get one year free.
The views of the blogger do not necessarily reflect those of Christianity Today.