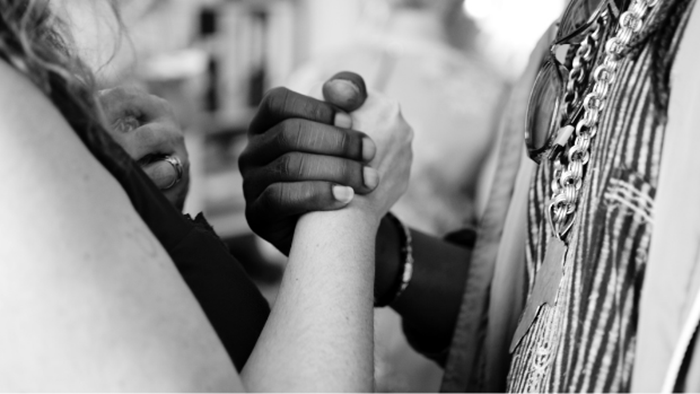 Image: Unsplash/Aarón Blanco Tejedor
We heard from scores of churches engaged in the effort toward reconciliation. Here are some encouraging examples again moving from the east coast to the west. While only a sampling of efforts across the country, we can be grateful so many are engaging in reconciliation efforts.
Eastern U.S.
Maryland: Dan Hyun (@villagedanhyun) is church planter and pastor of @VillageHampden, an intentionally multiethnic church in Baltimore, an epicenter of the Civil Rights movement. The church also started https://ethnosbaltimore.org. Not everything has been specifically about reconciliation but much of it has.
Virginia: McLean Bible Church had a message series on Unity in Diversity. One of the series messages was We Could All Use Some Good News, Part 3: Gentleness Is Better Than Cancel Culture. The entire series is here: Unity in Diversity - McLean Bible Church
North Carolina: David Whiteman (@dlwhiteman) pointed us to the Summit Church (@SummitRDU), who had a message on the "Black Lives Matter" movement.
Kentucky: @SarahMFlannery said: "Love this. Our church has hosted two book discussion groups this year, using The Color of Compromise and Be the Bridge. We also partnered with a nearby Black congregation for a Bible study on justice after reading Cone's The Cross and the Lynching Tree together. We have hopes of creating and performing a dramatization of these conversations in spring 2021."
Alabama: In Birmingham, @allisonpaigef told us about how the Church at Brooks Hills is pursuing racial reconciliation.
Middle U.S.
Illinois: Mitchell Shiver (@MitchellShiver) told us about a conversation in June at Community Christian Church between pastor @daveferguson and Quentin Mumphery. Watch here.
Also in Illinois, Becky Castle Miller, MA (@bcastlemiller) told us of a church involving my colleague Dr. Esau McCaulley (@esuamccaulley):
Church of the Savior (Anglican) in Wheaton looked at racism and how we can respond as God's people of justice in August and September. See the sermons on their website and podcast from Aug 22, 29 and Sept 5, 12, 19. Including this one from @esaumccaulley.
Indiana: Dustin Crowe (@IndyCrowe) told us about College Park Church in Indianapolis (@collegeparkindy), which was written about in "Why Indianapolis Megachurch Members Are Joining God in the 'Swamp.'" More stories of same church are found in Weep with Me by lead pastor (@MarkVroegop).
Minnesota: She Who Speaks Her Mind (@speaks_who) shared with us:
The Urban Refuge in Minneapolis is doing great work. Pastor Andy Gray is passionate about racial reconciliation and social justice.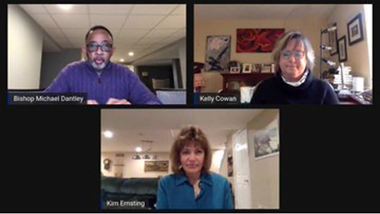 Image: Coffee with Bishop Dantley, Christ Emmanuel Christian Fellowship
Ohio: Elaine Su (@Elaine_Su) told us about Cincinnati's Christ Emmanuel Christian Fellowship held a great discussion (with other churches) after reading "Dear White Christians". Their FB conversation is available here.
Texas: JR. Forasteros (@jrforasteros) is a pastor at Catalyst Church in the DFW area. He told us of a recent series they did on Faith & Race and one on Faith and Politics that leaned into racial reconciliation, especially in the second week.
Ashley Banks (@ASHNBANKS1) mentioned The Village Church in Dallas.
Another came from Austin, Texas:
Dreamers Church ATX (@ChurchAtx) interviewed the Austin Police Chief in a 3 part video series to go with a sermon series talk about race, racism and relationships called "Who Is My Neighbor".
Speaking of Austin, here is another. We hear of increasing numbers of churches being planting as intentionally multiethnic congregations. Trey Bahm (@treybahm) told us:
I love my church Mosaic Church Austin. Their mission: "MOSAIC CHURCH EXISTS TO MAKE DISCIPLES OF JESUS CHRIST through the core values of worship, community and mission in a multiethnic, multigenerational context."
Western U.S.
California: @RonneRock recommended Fellowship Church in Monrovia, California, where reconciliation is woven into the daily conversation. They also host the preaching masterclass. From their website: "Racism has been discipled into us. Now is the time to disciple it out."
Washington: Tyler Gorsline (@tylergorsline) of A Seattle Church told us of their passion about engaging racial reconciliation work. Read about the variety of ways of this church plant in downtown Seattle is seeking reconciliation.
Also in Washington: Anchor Church has woven themes of ethnicity & the gospel into teachings regularly since its launch. The church works with historically African American churches and is currently working through cultural intelligence training as a staff and board.
Arizona. Chris Reed (@FlagPastorChris) told us about work of Christ's Church of Flagstaff, AZ, engaging the Native American community:
Here is a conversation we did at our church with a Native American leader and church member. Watch here.
Another example from Arizona comes from further south in Phoenix. A number of people recommended this one, including Kenny Donahue (@iam_KDonahue) and John H. Talley III (@JohnTalleyIII) as well as Caleb Campbell (@calebphx):
"Why We Must Remember—Understanding America's Race Problem" from Roosevelt Church (@rooseveltchurch). You can also read about pastor Vermon Pierre in an article at The Gospel Coalition here.
Oregon: Ashley Banks (@ASHNBANKS1) also told us about Bridgetown Church in Portland, and their commitment to racial justice.
As a reminder, you can read part one in this series here. Tune in this week as we add to this list.
The Exchange is a part of CT's Blog Forum. Support the work of CT. Subscribe and get one year free.
The views of the blogger do not necessarily reflect those of Christianity Today.