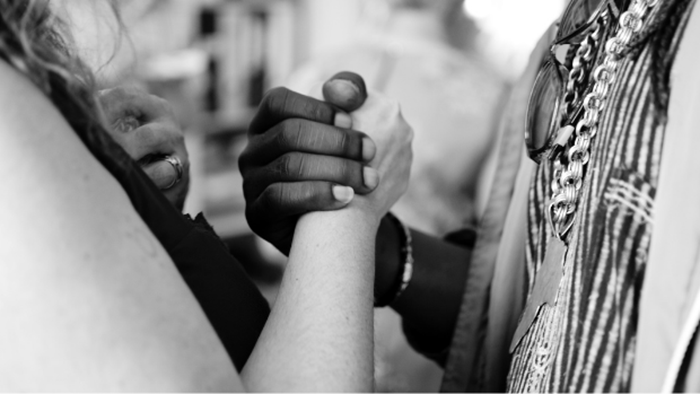 Image: Unsplash/Aarón Blanco Tejedor
In addition to churches and leaders engaging in efforts toward racial reconciliation, there have been many efforts by denominations and leaders to speak to this issue. The following are some responses we received regarding the work of denominations.
Wesleyans
The Wesleyans have collected a number of stories around the ideas of "humbly connecting," "intentionally learning," and "consistently acting." You can find these resources on their webpage entitled "What can we do about racism?".
Baptists
Houston. The Union Baptist Association (SBC, Houston, Texas area) has a long history of working with various groups across denominations. The UBA currently is working with many other groups in an effort first brought to us by Justin Moore (@Jbradleymoore). Their first meeting was June 15, 2020, where over 200 pastors and leaders met. You can learn more by visiting their Facebook page.
Andrew Johnson (@thediscfan) echoed the thoughts about the Houston churches, adding this link from the UBA where Lawrence Scott, a church planter and pastor and a church consultant for the UBA gives 5 actions steps:
Steward the sermon
Leverage legislation
Commit to community
People of peace
Common confessions and commitments
Andrew said his church (@neartownchurch) participated with these other amazing churches. Keelan Cook (@keelancook) at UBA is also a resource there.
Southeastern Alabama. John Thomas (@cyberjohn) reported on the Southeastern Alabama Baptist Association on several conversations they've had as an association.
The first one was with Fred Luter, the only African American to serve as president of the Southern Baptist Convention and our local ministers.
Another racial reconciliation zoom meeting can be seen here.
Also, Dhati Lewis, founding pastor of Blueprint Church and Vice President of the Send Network at the North American Mission Board spoke with local ministers here.
Georgia Baptists. Dave Willis @davewillis told us about a meeting with Georgia Southern Baptists involving the governor of Georgia:
Pastor William Givens of Buckhead Baptist Church led a powerful racial reconciliation service at Buckhead Baptist church in Atlanta on August 30, 2020. This service reportedly featured messages by governor Brian Kemp, Martin Luther King Jr.'s niece Alveda King, and Executive Director of the Georgia Baptist Convention Thomas Hammond, and others.
Cincinnati, Ohio. Mark Snowden @wmarksnowden director of missions for the Cincinnati Area Baptist Association tells us he and Pastor Kirk Kirkland led a dialogue you can see here: Understanding Race in the Cincinnati Area: A Biblical Perspective
This conversation was described as " A pastor-to-pastor dialogue about biblical approaches to racial injustice in the Cincinnati Area. The host, Mark Snowden, CABA's director, brings together a panel that includes Kirk Kirkland, Revive City Church; Jeff Zurcker, Hope Church; and Matthew Lyons, who has his doctorate in biblical history. All live in the Cincinnati Area. This video is meant to be a short introduction to issues pastors can use in their churches to address race whether in urban, suburban, or rural parts of southwestern Ohio. It was recorded prior to Christmas in a time churches love to proclaim peace, but continue to experience separation rather than unity. God's character includes righteousness and justice, but for justice to be in place it must be acted upon."
The North American Baptist Conference denomination posted an article on their website entitled "What Racial Righteousness Is and Why It Is Important," a gospel-focused statement that said in part:
As we seek to be faithful to the mandate given by Christ to make disciples through evangelism and teaching, we recognize that we take this mission into a world that is broken and deeply fragmented in many ways, including by categories of race. We recognize that the body of Christ itself is also divided along racial and cultural lines. Unity that brings glory to God is needed. Thus the mission of making disciples who are being spiritually formed into the character of Christ calls for attention to brokenness due to racial division. . . .

Racial righteousness casts a vision of biblical community that Scripture promotes but that is practiced too infrequently. It is also about casting God's vision for the dignity of all. Representing God includes prophetically speaking against structures and attitudes that violate inherent human dignity. Racial righteousness is consistent with the notion of justice prescribed by our Lord, who calls not just for personal individual righteousness but justice to be done.
Specific actions called for include "affirming the unity of the church in the Lord Jesus Christ, promoting awareness, encouraging community, providing education, and positively declaring the inherent dignity of all people as made in the image of God."
Methodists
North Texas Conference of the United Methodist Church. Andrew Fiser (@AndrewFiser) told us about some work among United Methodists in north Texas. Hear Bishop Michael McKee casting a vision for a "Journey Toward Racial Justice."
Christian Reformed Church in North America
Calvin University, affiliated with the Christian Reformed Church in North America, is offering a course in March entitled Faithful Anti-Racism in a Time of Pandemic. The course seeks to inform students about racism and xenophobia while equipping them to "critically discern its impact on COVID-19." It states further:
You'll explore the ways that theology and politics work to support or dismantle current racial disparities. You'll develop faithful anti-racist responses to our present moment and recognize patterns of racist practices, structures and ideologies.
The Exchange is a part of CT's Blog Forum. Support the work of CT. Subscribe and get one year free.
The views of the blogger do not necessarily reflect those of Christianity Today.