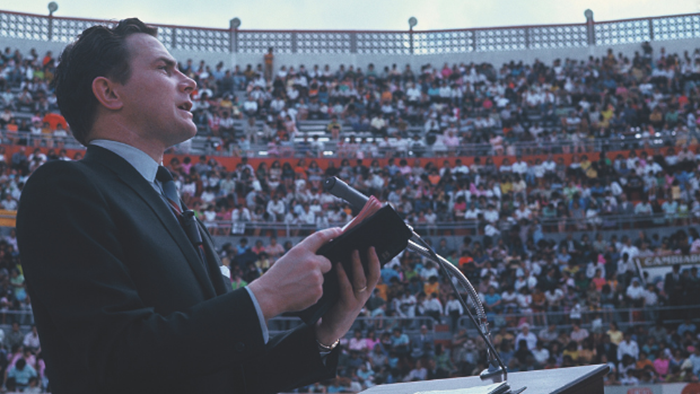 Image: Luis Palau Association
Luis Palau was an evangelist.
While for many he was far more, to Palau there was no greater compliment. Addressing a diverse collection of over 10,000 pastors, church leaders, and evangelists from across the globe in 1986, Luis Palau reflected on the kind of legacy he wanted to leave behind.
If I'm remembered for anything when I die, I want it to be this: that I had a heart and life which burned with the love and power of the Holy Spirit. A heart afire with love for God and for people. A message aflame with power to convict the souls of men and win them to Christ. That is my reason for living. That is my purpose in being an evangelist.
As an evangelist, Palau demonstrated the two enduring commitments that fueled his success. He was constantly innovating and adapting, shifting his strategies of evangelism to match cultures and to keep pace with time. Most notably, Palau changed his revivals from stadiums to city-wide festivals and community service events. Yet, coupled to this adaptability of method was a rigidity of message. Palau never veered from the orthodox teachings of the gospel, staking his ministry on his conviction that the want of the world was the risen Christ. The result of these twin commitments was untold thousands professed faith in Christ through his ministry.
Perhaps just as important as his public ministry was Palau's personal integrity. As stories continue to flood in, a consistent thread is memories from family and friends of a man who carried no pretense but displayed a genuine humility regardless of who was watching. His dedication to evangelism led him to forge partnerships where others saw rivalry and engage in dialogue where others saw opponents. He had a singular focus on sharing the good news of the gospel wherever he went.
A regular partner in our work at the Wheaton College Billy Graham Center, Palau often spoke in our Amplify Conference. In 2016, he inspired us to all to "dream great dreams." In 2017, he focused on clarifying our mission by reminding us that no matter how lonely and inadequate we feel, "the power of the resurrected Christ is real." It speaks to Palau's global legacy that both these addresses to his fellow evangelists provoked standing ovations. He was an evangelist among evangelists.
Evangelicalism
Many eulogies will likely celebrate him as "the Billy Graham of Latin America," and their relationship is worth noting. Palau looked to Graham as his mentor, a role model not only for his effectiveness in mass evangelism but for his personal humility. Palau had served as Graham's interpreter for several evangelistic campaigns before beginning his own revivals. Years later as Palau began to lead revivals in North America and Europe, Graham proved one of his strongest supporters.
But to limit Palau to the scope of Latin America fundamentally misunderstands his impact and vision. In a 2007 New York Times profile, Palau commented on his dissatisfaction with the moniker. Far from being angered at the comparison to Graham, Palau was instead frustrated by its narrowness.
Instead, Palau responded, "I want to be the Billy Graham of everywhere."
An Argentinian by birth, Palau led revivals across South America before expanding across the globe. From Helsinki in 1982 to Jakarta in 1990 to Chicago in 1996, Palau's scope rivaled that of his mentor. In the process, Palau represented a critical transition in global Christianity. For if the legacy of Billy Graham is inextricably tied to the diffusion of evangelicalism across the globe, Luis Palau represents the global evangelical world taking hold of the movement as its own.
His legacy of evangelism and the enduring relationships he established on every continent are reminders to Western Christians of the shifting center of the global church. As recently as 2015, 68% of global Christianity and 84% of global evangelicalism was comprised of people of color. As Asbury Seminary's Stephen Offutt argues, these new global centers of evangelical life and thought are "becoming socioeconomically diverse, better connected internationally, and increasingly socially engaged… these trends and activities are recreating evangelical identity, and they are reorienting the movement's social and political location."
Palau, along with a host of many other men and women of faith, are a significant reason for this growth.
Calling the Church to Evangelism
Palau's passing comes at a time where evangelism, particularly in the Western world, appears to be on the decline. The church is rapidly progressing from the challenge of equipping and mobilizing Christians for evangelism to having to defend the practice entirely. Sharing the truth of the gospel is increasingly at odds with a culture centered on pluralism, subjectivity, and individualism.
Despite this growing resistance, Palau maintained that a central calling on the life of the believer was to show and share the good news of Jesus. For Palau, even his death was an opportunity to share Christ. In his February 16 update on his father's health, Andrew Palau wrote:
As you might suspect, Dad is famous at the hospital – truly loved by all and pointing each and every one to the Savior every chance he gets. The number of stories and reports from the medical staff – sharing how much of an encouragement and blessing he was to them while there – was such a blessing, yet also not a surprise. He is a true champion for the Gospel and a great example for us all.
From his hospital bed, Palau's example reminds the church that we have been given the words of life in the midst of a dying world.
Celebrating Christ
In recent months as his health deteriorated, Palau sent a surprise message to guests at our most recent Amplify Conference. Speaking of the pandemic, Palau focused on the opportunities to proclaim the gospel in the midst of a "generation that is suddenly facing the reality of death and fear and eternity."
Knowing that pastors and church leaders were hurting as well, Luis then turned his final words to offer an exhortation out of his own perseverance in suffering:
I will tell you, you have no regrets where you spent your life proclaiming the whole counsel of God in the local church and through the local church, but particularly focusing on the good use gospel of the cross, the blood, the burial, the resurrection, the essential, and they're coming again of Jesus Christ.
Well done, Luis. We look forward to celebrating Christ with you when we are together again.
The Exchange is a part of CT's Blog Forum. Support the work of CT. Subscribe and get one year free.
The views of the blogger do not necessarily reflect those of Christianity Today.