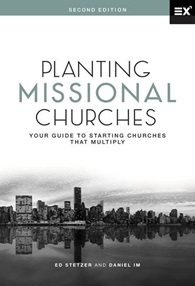 Planting a church is one of the most exciting adventures you'll ever embark on. It's also one of the hardest. It requires initiative, leadership, strategy, systems, and a lot of prayer. In this second edition of Planting Missional Churches, not only will you find a completely redesigned book with new content in every single chapter, but you will also find several new chapters on topics such as church multiplication, residencies, multi-ethnic ministry, multisite, denominations and networks, and spiritual leadership. So if you're planting a church, be prepared. Use this book as a guide to build the needed ministry areas so that you can multiply over and over again.
For additional resources visit www.newchurches.com/PMC.
Purchase:
LifeWay.com
Amazon.com
978-1433692161; 416pages; Hardcover
Ed Stetzer and Daniel Im
B&H Publishing Group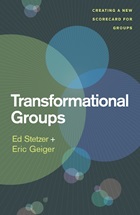 God declared through the Apostle Paul that the church would be a place of transformation. In 2 Corinthians 5:17 we find, Therefore, if anyone is in Christ, he is a new creation; old things have passed away, and look, new things have come. Despite this, the church seems increasingly to be a place where transformation fails to occur.
Surveying the landscape, however, there are some bright spots where churches are faithfully producing transformed disciples. Furthermore, as shown in Scripture and supported by new research, God designed such transformation to often happen in the context of smaller groups of people.

But what characteristics are true of churches that are making transformed disciples through group-based ministry-whether small groups, missional communities, Sunday school, or some other expression of groups?
Purchase:
LifeWay.com
Amazon.com
9781433683305; 224 pages; Paperback
Ed Stetzer and Eric Geiger
B&H Publishing Group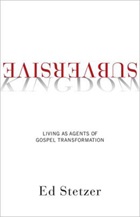 The world is broken—more so than we know. But for those who know that Christ is coming to establish a new and perfect order, ours is not just a world to endure but a world to invade. Believers have not been stationed here on earth merely to subsist but to actively subvert the enemy's attempts at blinding people in unbelief and burying them under heartbreaking loads of human need.

The kingdom of God changes all that.
Purchase:
LifeWay.com
Amazon.com
9781433673825; 256 pages; Paperback
Ed Stetzer
B&H Publishing Group
The Mission of God Study Bible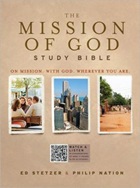 The Mission of God Study Bible encourages followers of Jesus Christ to see their everyday life from God's perspective and have His heart for people. It's a reminder that we live around people in desperate need of redemption and reconciliation with God, which can only be found in Jesus. The mission of God has never been just for specialists; it is for all believers to live out through their daily lives and by sharing the good news of what God has done through the death and resurrection of His Son Jesus. Wherever you are, you are on mission.
In The Mission of God Study Bible, readers will hear from today's top thinkers, theologians, and leading voices in the church about what it means to live in the mission of God. Essay contributors include Matt Chandler, Tullian Tchividjian, Ed Stetzer, Matthew Barnett, Andrea Mullins, Dave Ferguson, Christopher J.H. Wright, and many others.
Readers will also discover "Letters to the Church" from elder statesmen that speak to the grand narrative of God's mission in Scripture. These words from Billy Graham, Jack Hayford, R. T. Kendall, Erwin Lutzer, Calvin Miller, and R.C. Sproul will inspire you to live God's mission daily.
Purchase:
LifeWay.com
Amazon.com
9781433601552; 1418 pages; Various
Ed Stetzer and Philip Nation
B&H Publishing Group
In Transformational Church, best-selling research authors Ed Stetzer and Thom S. Rainer address the question: how does a body of believers do its part to be in the "sweet spot" where true spiritual transformation occurs? By surveying fifty thousand churches — then narrowing the scope down to five hundred congregations — Stetzer and Rainer share with readers the qualitative answer. Transformational Church, the most comprehensive study of the modern American church to date, contains a wealth of indispensable new data, nuanced insights, and how-to guidance, all centered on this key finding: "Transformational churches make disciples whose lives are being transformed by the gospel, so that people engage the culture around them for its ultimate transformation. Deeply committed to the essential foundations of discipleship (worship, community, and mission), transformational churches practice their faith and make disciples through vibrant leadership, prayerful dependence upon God, and relational intentionality. And they do so paying mind to their unique context and with a missionary mindset."
Purchase:
LifeWay.com
Amazon.com
9781433669309; 244 pages; Hardcover
Thom Rainer & Ed Stetzer
B&H Publishing Group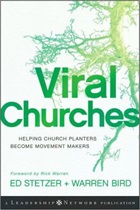 Based on a national, cross-denominational study commissioned by Leadership Network, Viral Churches outlines the best practices in church multiplication movements and reveals the common threads among them. A hands-on resource, Viral Churches offers the fresh vision and critical perspectives essential as a catalyst for today's church planting leaders.
Authors Ed Stetzer and Warren Bird draw from their own experiences, the insights of numerous pioneering leaders, and what was arguably the nation's largest research project on church multiplication. They show leaders how to plant churches that multiply into a movement, and they offer inspiration for the need to do so. Filled with illustrative stories from successful church planters, this important book outlines practical ideas that are essential to the success of church multiplication networks. Each chapter highlights a different point on such issues as keeping the focus on evangelism; recruiting, assessing, and deploying planters; increasing the survivability of new churches; using a multisite strategy effectively; funding; overcoming obstacles; facing challenges ahead; and many more.
Purchase:
LifeWay.com
Amazon.com
9780470550458; 244 pages; Hardcover
Ed Stetzer and Warren Bird
Jossey-Bass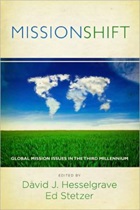 Veteran missionary David Hesselgrave and rising missional expert Ed Stetzer edit this engaging set of conversational essays addressing global mission issues in the third millennium. Key contributors are Charles E. Van Engen ("Mission Described and Defined"), the late Paul Hiebert ("The Gospel in Human Contexts: Changing Perspectives on Contextualization"), and the late Ralph Winter ("The Future of Evangelicals in Mission"). Those offering written responses to these essays include: (Van Engen) Keith Eitel, Enoch Wan, Darrell Guder, Andreas J. KÖstenberger; (Hiebert) Michael Pocock, Darrell Whiteman, Norman L. Geisler, Avery Willis; (Winter) Scott Moreau, Christopher Little, Michael Barnett, and Mark Terry.
Purchase:
LifeWay.com
Amazon.com
9780805445374; 432 pages; Paperback
Ed Stetzer and David Hesselgrave
B&H Publishing Group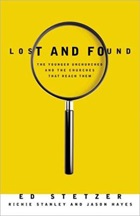 Lost and Found takes a close look at who young unchurched are, and how can they be reached with the good news of Jesus Christ. In a poll result highlighted by CNN Headline News and USA Today, nearly half of nonchurchgoers between the ages of twenty and twenty-nine agreed with the statement, "Christians get on my nerves." Now, researchers behind the larger study present Lost and Found, a blend of dynamic hard data and modern day parable that tells the real story of an unchurched generation that is actually quite spiritual and yet circumspect, open to Jesus but not the church.
As such, Lost and Found is written to the church, using often-surprising results from the copious research here to strike another nerve and break some long established assumptions about how to effectively engage the lost. Leading missiologist Ed Stetzer and his associates first offer a detailed investigation of the four younger unchurched types. With a better understanding of their unique experiences, they next clarify the importance each type places on community, depth of content, social responsibility, and making cross-generational connections in relation to spiritual matters.
Most valuably, Lost and Found finds the churches that have learned to reach unchurched young adults by paying close attention to those key markers vetted by the research. Their exciting stories will make it clear how your church can bring searching souls from this culture to authentic faith in Christ.
Those who are lost can indeed be found. Come take a closer look.
Purchase:
LifeWay.com
Amazon.com
9780805448788; 240 pages; Hardcover
Ed Stetzer, Richie Stanley and Jason Hayes
B&H Publishing Group
Spiritual Warfare and Missions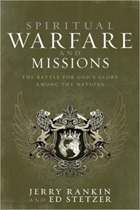 The mission of God to "Go, therefore, and make disciples of all nations" (Matthew 28:19, HCSB) is a major target of spiritual warfare today. In this new book by International Mission Board president Jerry Rankin and noted missiologist Ed Stetzer, the authors call out Satan's ongoing strategy to convince Christians that the Great Commission is optional. Through deceit, he is eroding the authoritative mandate of Scripture, leading believers to tell themselves that international discipleship is a task better left to denomination and mission agencies—not the sort of kingdom work that every believer can do.
But for every evil success, Rankin and Stetzer point to where Satan is failing, thus encouraging readers to renew their passion to declare God's glory among the nations. Indeed, by taking up the call to action here, we can be sure that the kingdoms of the world will become the kingdom of the Lord.
Purchase:
LifeWay.com
Amazon.com
9780805448870; 312 pages; Hardcover
Ed Stetzer and Jerry Rankin
B&H Publishing Group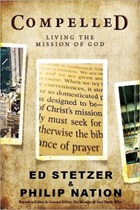 Understand what it means to be compelled by love. Stetzer and Nation challenge readers to look at love within the context of God, the church, and the lives of individual believers. Compelled provides readers a basic theological grounding and a platform for personal application as they understand that missional living is all about simply the calling to love others. Look at the love of God; begin to truly understand what is at the center of the church's foundation, commission, and direction; but most importantly, understand your role within the mission of God as you integrate love into all aspects of your missional calling.
Purchase:
LifeWay.com
Amazon.com
9781596693517; 192 pages; Paperback
Ed Stetzer and Philip Nation
New Hope Publishers
11 Innovations in the Local Church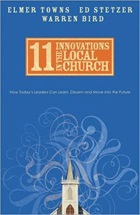 The church of today doesn't look or act like it once did. Take a look around communities nationwide and you'll see local churches taking on a variety of forms and expressing themselves in a multitude of ways. Now you can join three seasoned church-ministry experts on an insider's tour of the most exciting innovations in churches today! Throughout this engaging book, you'll discover multiple profiles of cutting-edge churches that have implemented each innovation in their own way. You'll explore churches that have dared to be different, from Ancient-Future Postmodern Churches to Cyber-Enhanced Churches to churches that are intentionally multicultural. More than a show-and-tell tour, each chapter offers solid takeaways as you learn from the innovative direction that other churches have taken and come up with your own. The authors also provide guidance and wisdom through scripturally based assessments of both the positive and negative implications of implementing any given innovation in your church. There are many ways to present the gospel. God is using innovative expressions of the church today to reach many different types of people. Come discover with Towns, Stetzer and Bird, how God has blessed churches such as yours as they have stepped out to find fresh ways to make better disciples. There's never been a better time to explore innovative new directions for your church and reach more people for Christ.
Purchase:
Amazon.com
9780830743780; 286 pages; Paperback
Ed Stetzer, Warren Bird, and Elmer Towns
Regal Books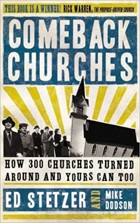 Research shows that over time, most churches plateau and then eventually decline. Typically, they start strong and experience periods of growth, then stagnate and lose members. Since 1991, the North American population has increased by 15 percent while the number of "unchurched" people has increased by 92 percent. Large church houses that were filled in the 1950s and 60s now hold a fraction of their capacity.
To counter this trend, authors Ed Stetzer and Mike Dodson surveyed 300 churches from across ten different denominations that recently achieved healthy evangelistic growth after a significant season of decline. What they have discovered is an exciting method of congregation reinvigoration that is shared in the book entitled Comeback Churches.
Purchase:
LifeWay.com
Amazon.com
9780805445367; 226 pages; Hardcover
Ed Stetzer and Mike Dodson
B&H Publishing Group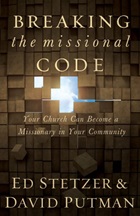 Across North America, many pastors are excited to see churches growing as they achieve their mission to connect the message of the gospel with the community at large. Still others are equally frustrated, following the exact same model for outreach but with lesser results. Indeed, just because a "missional breakthrough" occurs in one place doesn't mean it will happen the same way elsewhere.
One size does not fit all, but there are cultural codes that must be broken for all churches to grow and remain effective in their specific mission context. Breaking the Missional Code provides expert insight on church culture and church vision casting, plus case studies of successful missional churches impacting their communities.
"We have to recognize there are cultural barriers (in addition to spiritual ones) that blind people from understanding the gospel," the authors write. "Our task is to find the right way to break through those cultural barriers without removing the spiritual and theological ones."
Purchase:
LifeWay.com
Amazon.com
9780805443592; 244 pages; Hardcover
Ed Stetzer and David Putman
B&H Publishing Group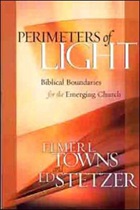 How far do we go to connect with our culture? Can we "sell" the Gospel like the world sells soft drinks? Where are the boundaries? The church today is walking a tightrope. On the one hand, we need to proclaim, and, perhaps more importantly, live the Gospel in such a way that it connects with both seekers and younger people looking for community and authenticity. Yet at what point does this fall into "feel good" ministry at the expense of biblical truth? These are issues that God's people are now beginning to wrestle with. Elmer Towns and Edward Stetzer provide an intergenerational perspective that sheds biblical light on some tough challenges facing the church.
Purchase:
LifeWay.com
Amazon.com
9780802415004; 208 pages; Paperback
Ed Stetzer and Elmer Towns
Moody Publishers
Planting New Churches in a Postmodern Age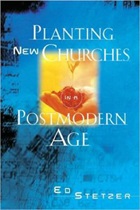 In this book, Ed Stetzer lays out a case for missional church planting and then describes the process to plant healthy new churches. He combines the theological and the practical in one book. The book looks at cultures and how to reach persons in those cultures through the tools within the cultures themselves. It also provides a new look at emerging trends in churches reaching postmoderns. Then, it provides step-by-step instructions about how to plant churches in today's world.
Sections include "Basics of Church Planting," which explores the biblical and theological basis for planting, "Church Planting Nuts and Bolts" which provides those essential practical tools, and "Understanding Cultures and Models," which provides fresh insights into reaching unchurched people.
Solid experience (from Stetzer and dozens of examples), Biblical roots, and fresh insights into the postmodern world make this a must read for the church planting hoping to make an impact.
Purchase:
Amazon.com
9780805427301; 376 pages; Paperback
Ed Stetzer
B&H Publishing Group