Mark Wahlberg's latest film might surprise you.
In an emotionally ratifying opening scene, a young Stuart Long sings along to Elvis in the living room, dancing around in nothing but his boxers. His father, Bill, played by Mel Gibson, curses his son's dreams from his favorite lounge chair, between swigs of beer.
"We wanted to make a movie that was gritty and real, and about tough mercy and grace," Wahlberg explains about the recently released Father Stu, a tenacious film that tackles faith in a way outside the norm of "Christian films."
"[I believe] it's also for God's purpose. He hasn't given me all these things to just go off and live a Christian life and forget about all the struggles everybody else faces."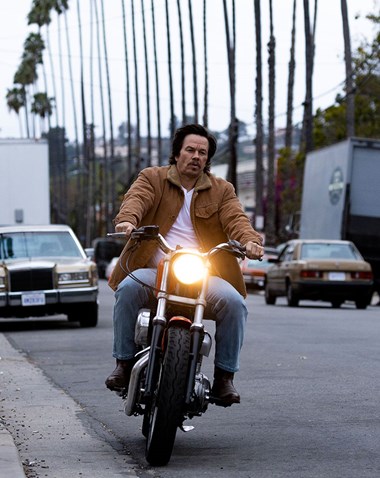 Image: Photo by Karen Ballard, Courtesy of Sony Pictures Entertainment
To a casual viewer, it might look like Wahlberg will play any role for the right price. After all, he's done everything from play a porn star in Boogie Nights (1997), to playing a vulgar man-child in Ted (2012). He was the third highest-paid actor in 2022, earning 58 million dollars that year, according to Forbes Magazine.
However, you see another side of Wahlberg in Father Stu, one that marries his tough-guy Boston roots, with his recently revived Catholic faith. The film tells the true story of Stuart Long, an amateur boxer from Montana who, through a series of life-altering events, becomes a priest in the Roman Catholic Church.
"Once I started focusing on my faith, [I knew] something good would happen, and I couldn't accredit it to anything else other than my faith. It's been a long road" Wahlberg ruminates.

Six years ago, Walhberg met with two priests at an Italian restaurant for spiritual direction—it was there that he was pitched the idea for the film that would eventually become Father Stu.
"Father Ed keeps talking about this movie he wants to make with me. I'm thinking, you do your job and I'll do mine. I wasn't there to find the next script." As Father Ed explained who Stu was as a person, the struggles he faced, who he became as a man of God, how he impacted people, and how powerful his message was, "A light went off" for Wahlberg.
"I was like 'okay, you want to know what you're supposed to be doing? Here it is–put right in your lap literally on your plate before your salad came. Here is the meal, the most fulfilling thing that you'll ever do.'"
Wahlberg produced and partially financed the film to get it off the ground. "We were doing these masses at my house. We didn't really know if this movie was going to happen, or when it was going to happen—You think you've got a director and then that falls through" he explained.
The production timeline for the film was short. "30 days isn't a lot of time. We had an amazing piece of material. Everybody was there for the same reason, to kind of support the movie and be a part of telling Stu's story… I want to make people and 'the powers that be' have more confidence in making films that are more substance based and have more of a positive impact on people," he said.

Father Stu's parents in the film are played by Mel Gibson (Bill Long) and Jacki Weaver (Kathleen Long). Gibson portrays Bill, a blue-collar alcoholic, who's estranged from his family and angry at God, ever since Stu's brother, Stephen died at a young age.
Wahlberg asked the screenwriter Rosalind Ross, who is Gibson's long-time girlfriend, to write the script. "There are no books about Stu. We were able to speak with his father Bill, from whom Stu was estranged until his final illness was diagnosed, as well as his best friend from the seminary," Ross said in the film's synopsis.
After being moved by her screenplay, Wahlberg chose her to direct the film too. "I didn't want my lack of theological knowledge to be a barrier, so I tried to go on that journey along with Stu as best I could. We don't shy away from the things that made him authentic: his reckless lifestyle, his many shortcomings, certainly not any of his colorful language" she explains in the film synopsis.
"He gave it to people real, raw, uncut," Wahlberg said. That comes through in the film's dialogue. "Stu—when you see him in his prison ministry—how credible he is to those people, because he's one of them." Wahlberg drops the F bomb three times, in the first five minutes of Father Stu. "A lot of people were worried about the language, and if it was necessary. I just thought it was necessary to be brutally honest," Wahlberg said.

Long's boxing career was cut short after a blow to the jaw that left him needing reconstructive surgery. The film's trailer gives away a large part of his pre-conversion story. "I'm going to be an actor," Stu tells his mother, played by Jacki Weaver, who earned an Academy Award for Best Supporting Actress in Silver Linings Playbook.
"It's a very tough business. If you're not meeting the right people at the right time, at the right place, it can be very difficult" Wahlberg said.
"The person who took me under their wing when I came to Hollywood was a remarkable woman name Penny Marshall who made my first film (Renaissance Man). To give a first-time writer, a director a shot, a woman making this movie and my mom and all these amazing, strong women who have been put in my life made me the person that I am today," he said.
Soon after moving to Los Angeles, Stuart Long fell in love with Carmen, played by Teresa Ruiz. She introduced him to God by bringing him to the Catholic Church and he fell in love with her quickly. According to Wahlberg, Ruiz was right for this role in so many ways.
"She comes from a family of devout Catholics," he explained. "It was her intention to allow God to shine through her in everything she did."
But their romance wasn't without its flaws, between the mountain top moments. Personally, my favorite scene portrays a duet between Carmen and Stu as they sing "Jackson" together at a karaoke bar. I found myself rooting for them, even though their relationship has an expiration date—given the film's title, we know that "Stu" becomes Fr. Stu, a celibate Catholic priest.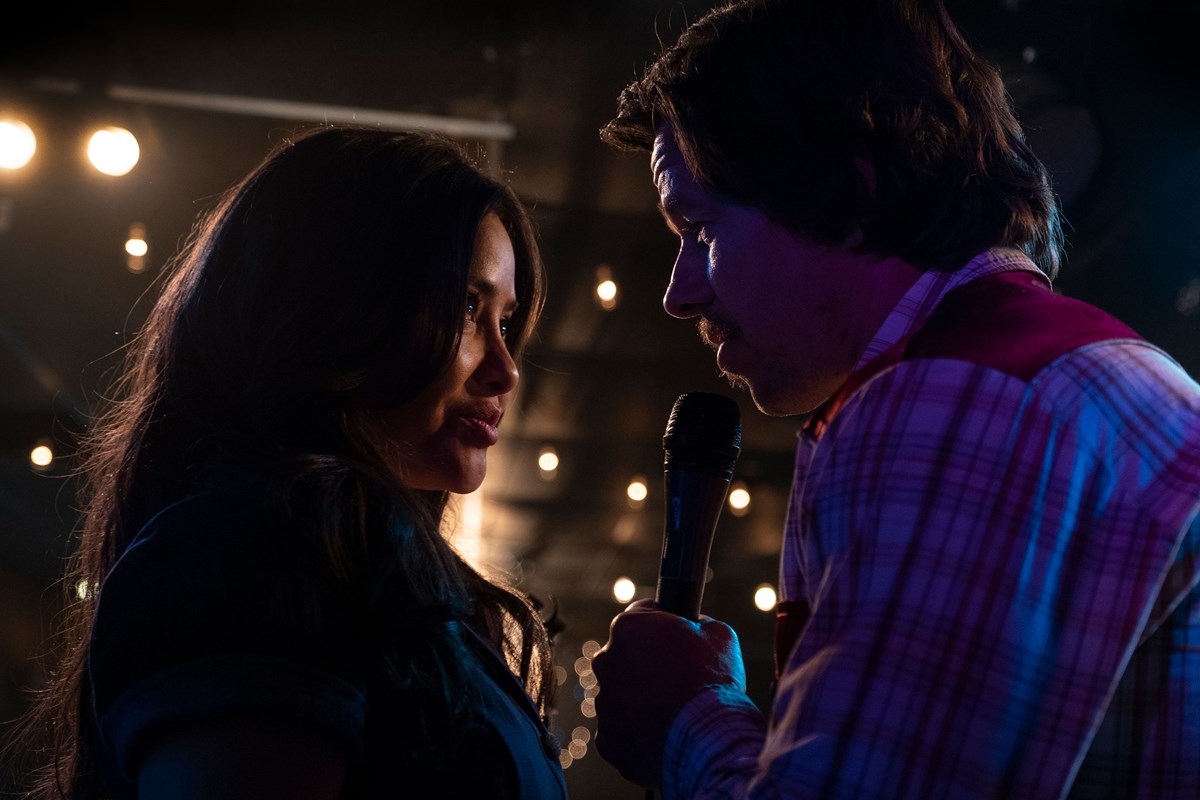 Image: Photo by Karen Ballard, Courtesy of Sony Pictures Entertainment

Despite the romance, Long was still aimless. That changed in a singular moment when he was involved in a devastating motorcycle accident, where he was struck by a car and run over by another. Through the experience and recovery, Long was struck by an epiphany: "I'm going to be a priest." As Wahlberg thinks on Stu Long's life, he understands the truism, "Every sinner has a past, and every saint has a future."
The Virgin Mary appears to Father Stu right after the accident. Holding his bloody, head in her hands, he hears her say, "You will not die from this. He died for you, and he died for [your brother] Steve." Stu suffered for most of his life from survivor's guilt, as his parents were still grieving the death of their other son.
When asked what it was like to film that scene in particular, Wahlberg said, "I was going through a time when my mom was very, very sick. My mother died during the making of the film. [It was] very emotional, but also very uplifting and inspiring."
Alma Wahlberg, mother of nine children, died at 78 years old after a battle with dementia. Mark announced her death on Instagram on April 18, 2021, with the caption "My angel. Rest in peace." The Walhberg family was Catholic and grew up in Dorchester, Massachusetts, according to an article in the Sunday Herald Sun.
Wahlberg explains that at one point, he felt like he was beyond redemption "… I broke my mom's heart, my dad's heart. I knew that I was hurting people. I was out of control, and I was just living a life—who knew where it was going to end up, dead or in jail."
When he was sixteen years old, Wahlberg attacked two Vietnamese men for a case of beer. He pled guilty to assault and served 45 days in prison, according to an article in the Sunday Herald Sun.
"All the guys that I wanted to impress never came to see me, didn't care what happened to me. But there was a woman was there, who was 70 years a Franciscan, a priest who was there… There was always somebody there. They picked me up, dusted me off, and pointed me in the right direction," Wahlberg said.
"Stu could've easily been in that yellow jumpsuit. If he wasn't in the crutches, and he wouldn't have been a man of the cloth, he could've been in that situation. That's why he wanted to share [Jesus] with them, and with everybody else"
There's a spiritual awakening that's undeniable is Stu's story. He goes from punching a statue of Jesus, to getting baptized and giving up his girlfriend for a life of celibacy, to serve the Catholic Church.
At one point in the film, Stu makes the point that "some of the most effective people in the church were reformed men." Wahlberg points to this as his favorite line in the movie, which Stu uses to make his case for getting accepted into the seminary.

Recently, Wahlberg visited Father Stu's alma mater, Carroll College, for a private screening of the film in Helena, Montana.
"People [who watch the film] feel a very direct connection to Stu and identify with him in some way personally. That's never happened to me before. So yeah, I want to do more," Wahlberg said. "In troubling times, we also need to be reminded that we're not going to give up on people and turn our back on people who are making bad choices and having hard times," he said.
Stu Long died at the age of 50 from Inclusion Body Myositis, a rare autoimmune disease which mimics the symptoms of ALS. He served as a priest for seven years before his death on June 9, 2014. His first priestly assignment was at Little Flower Parish in Browning, Montana, according to his obituary.
Even after Long's autoimmune disease puts him in a wheelchair, he delivered a homily as a newly ordained priest, saying "Though our outer self is wasting away, our inner self is being renewed day by day." (2 Cor. 4:16 ESV)
As a film, Father Stu grapples with life's most difficult question: does life have any real meaning or purpose? Instead of hiding behind Christian cliches, Wahlberg takes the viewer on a redemptive journey with Stu himself, where a series of hardships leads him directly to God himself, through the Catholic Church.
It's apparent that God uses the sacraments of Baptism, the Eucharist, Reconciliation and eventually Holy Orders to transform Stu from an aimless alcoholic to a humble "man of the cloth."
Wahlberg contemplates, "There was divine intervention, between Jesus, and Stu… and all the pieces that brought it all together. It would be crazy to think that it was anything else other than them making it all happen."
Kelsey is a UX Strategist at Christianity Today. Follow her on Twitter and find her poems in The Slumbering Host at Little Gidding Press.
Ekstasis is a publication and community that seeks to revive the Christian imagination by publishing work that slants toward the triumphant and glorious aspects of life in Christ, framed through the arts and literature.