O, Christmas Tree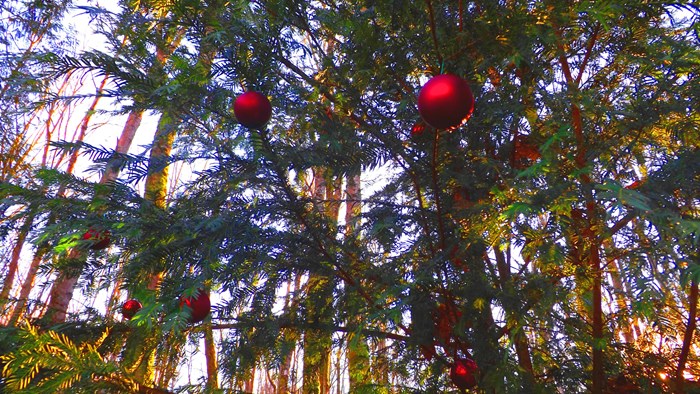 Everybody has "traditional" Christmas ornaments. The tree at my parents' house traditionally features a patchwork-covered-Styrofoam turtle and a Wonder Woman ball (blue with silver glitter stars). The large tree at Wheaton College traditionally bears decorations sent in by alumni missionaries around the globe. Germans traditionally hide a glass pickle in their trees, while Ukrainians opt for a silver spider. But what would a truly traditional-as in historical-Christmas tree look like?
To answer that question, we would first need to pin down the date and location of the first decorated Christmas tree. Unfortunately, at least two candidates vie for that distinction, not counting the many pagan tree customs that may or may not relate to modern practice.
Riga, Latvia, claims to have been the site of the first decorated evergreen, which was displayed in the town market in 1510. Why Latvia?
"In the 7th century a monk from Crediton, Devonshire, went to Germany to teach the Word of God. He did many good works there, and spent much time in Thuringia, an area which was to become the cradle of the Christmas Decoration Industry.
"Legend has it that he used the triangular shape of the Fir Tree to describe the Holy Trinity of God the Father, Son and Holy Spirit. The converted people began to revere the Fir tree as God's Tree, as they had previously revered the Oak. By the 12th century it was being hung, upside-down, from ceilings at Christmastime in Central Europe, as a symbol of Christianity.
"The first decorated tree was at Riga in Latvia, in 1510."
The monk was Boniface (680-754), but he worked almost exclusively in Germany, so I'm not sure of the Latvian connection. The Riga story also makes no ...
You have reached the end of this Article Preview