When Billy Graham Went to New York City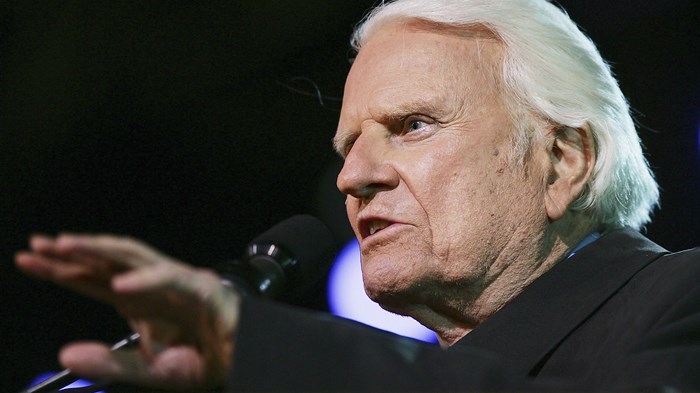 This piece was originally published in 2005.
His body racked by age and infirmities, Billy Graham will depend heavily on the Holy Spirit to endure his speaking schedule for the New York City crusade later this month. The 86-year-old evangelist is determined not to let even hearing loss, prostate cancer, and Parkinson's disease stop him from delivering the gospel message of salvation through Jesus Christ.
Nearly 50 years ago, during his first major Gotham crusade, Graham faced different—yet similarly daunting—impediments to his ministry. Instead of disease, Graham warded off withering attacks from Reinhold Niebuhr, fundamentalists, and segregationists. The remarkable response to Graham's preaching effectively marginalized the extreme ends of the theological spectrum and helped carve out a prosperous middle ground for the burgeoning civil rights and evangelical movements.
Confronting the Mainline Establishment
Granting a rare interview, Graham this week told The New York Times that sentiment prompted him to choose New York City for what could be his last crusade. Given the significance of his 1957 crusade, the symbolism is obvious. Only eight years earlier, Graham burst onto the American scene in Los Angeles, and his 1954 visit to London marked Graham as a global figure. But New York City had yet to embrace the dynamic young evangelist.
Leading the charge against Graham was none other than Reinhold Niebuhr, the venerable professor at Union Theological Seminary in New York City. In an article for Life magazine, Niebuhr vigorously denounced Graham for presenting Jesus as the all-sufficient answer for man's ills. "Perhaps because these solutions are rather too simple in any age, but particularly so in ...
You have reached the end of this Article Preview