My Top 5 Books to Read During Advent and Christmas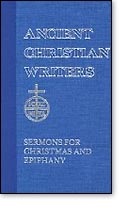 This slideshow is only available for subscribers.
Please log in or subscribe to view the slideshow.
This list represents my own desire during this holy season to experience new birth in my soul, as modeled by that divine-human baby lying humbly in the manger. My main interest is in learning how to do discipleship, in finding affective theology to grow in me a more Christ-minded, thankful, wonder-filled, and kinder lifestyle. These are the books I am sipping tea over and steeping in this Christmas.
From the Paulist Press Ancient Christian Writers series, this splendid book of sermons invites us into the lives of the earliest Christians. Here, as the translator says in his excellent introduction, the "brilliant and profoundly spiritual" Augustine explores the divine mystery of the Verbum infans (the unspeaking infant Word) in fifteen sermons for the Christmas season, two for New Year's, and six for Epiphany. With great pastoral care for his congregation, Augustine expounds the Christian creed, exposes the heretical fallacies of his time, explains difficult passages of Scripture, praises God's infinite and ineffable mercy, and works to resolve his listeners' doubts—all in language that is accessible to the ordinary layperson. Above all, Augustine asks us to celebrate with deepest joy and gratitude the "wondrous humility" of the omnipotent and divine Word's coming into this world as a helpless human infant.
Hanged on April 9, 1945, for conspiring in a plot to assassinate Hitler, Dietrich Bonhoeffer was one of the most unforgettable Christian writers of the 20th century. He writes that Advent is genuinely celebrated by "those who are troubled in soul, who know themselves to be ...
You have reached the end of this Article Preview