Why St. Jerome Is an Icon for Our Times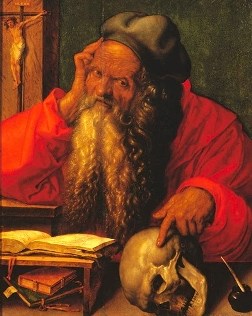 This slideshow is only available for subscribers.
Please log in or subscribe to view the slideshow.
Guest blogger James Edwards is Bruner-Welch Professor of Theology at Whitworth College, Spokane, Washington. He is the author of The Hebrew Gospel and the Development of the Synoptic Tradition (Eerdmans, September 2009). Dr. Edwards is an ordained minister in the Presbyterian Church (USA) and a contributing editor to Christianity Today magazine.
* * *
If you spend any time in the great art museums of Europe you will see with surprising frequency a more or less stylized portrait of an emaciated monk in a wilderness den, often pummeling his body with a stone. I have been interested in this figure for a number of years, but rarely have I seen other museum visitors recognize or relate to the subject. The monk who captured the imagination of the Renaissance painters is St. Jerome, who lived from 345 to 420. I believe that Jerome should capture our imagination as well, and serve as an icon of our times.
In nearly all the portraits, Jerome is depicted as a tormented ascetic, praying, with his four hallmarks somewhere on the canvas: a crucifix, a skull (symbolizing meditation on mortality), a recumbent lion (which Jerome reputedly befriended by extracting a thorn from its paw and which may symbolize the peaceable kingdom of Isaiah 11), and a red cardinal's hat (symbolizing Jerome's status, along with Ambrose, Augustine, and Gregory the Great, as one of the four great doctors of the Latin church).
Before considering why Renaissance painters memorialized Jerome in this way, let me summarize his life.
Born in Dalmatia (modern Croatia), Jerome became a prolific scholar, translator, biblical exegete, and father of the Latin Vulgate Bible. Augustine remains better known than Jerome, but even Augustine envied Jerome's scholarly prowess, ...
You have reached the end of this Article Preview