In Search of Jesus' Foreskin and Other Relics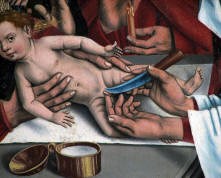 This slideshow is only available for subscribers.
Please log in or subscribe to view the slideshow.
In Search of Jesus' Foreskin and Other Relics
Some items on my summer reading list.
One of the benefits about writing on a topic like the spirituality of travel or relics is that long after the article appears people keep sending you material. Fortunately, I'm still very interested in the subject matter. (I'm sad to say that's not always true of subjects I've written about. After finishing my book on Christianity and the Celts I took a long break from reading anything even slightly related to Celtic Christianity. I'm over it now and even read Jon Sweeney's edited version of J.B. Bury's Patrick biography.)
So now I have three new books at the top of my summer reading pile.
The first is Tamara Park's Sacred Encounters, which came out in January from InterVarsity Press. Her travelogue from Rome to Jerusalem is the latest of several evangelical pilgrimage books. I must confess I don't yet know much more about it than that, but I'm glad to see Christian publishers continue to move into this area.
The second is Rag and Bone, Peter Manseau's more journalistic pilgrimage to holy relics from various religions. The excerpts I've read are fascinating. I'm not very interested in multifaith books that seek to derive meaning by looking for what Muslims, Buddhists, Christians, and Sikhs all do similarly (my "spirituality and travel" bookshelf has far too many of such titles), but I've enjoyed Manseau's writing elsewhere.
The third is more specific and (ahem) less serious. In An Irreverent Curiosity, David Farley goes in search one particular relic. The strangest relic of all, perhaps: Jesus' foreskin. Based on a snickering 2006 preview of sorts he wrote for Slate, I don't think this is a book Christianity Today will be recommending highly, even though Protestants have been very negative on relics in general and on Jesus-related ...
You have reached the end of this Article Preview