'We Lepers'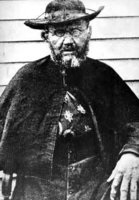 This slideshow is only available for subscribers.
Please log in or subscribe to view the slideshow.
It has been a good year for my old home state of Hawaii: it started the year with one of its own becoming President, and on October 11 one of its most famous heroes will officially become a saint of the Roman Catholic Church.
Even among Hawaii's most Protestant Protestants, Damien de Veuster is praised as a man who exemplified incarnational, sacrificial ministry. The Belgian priest did not first go to the islands to minister to the Hansen's disease victims of the Kalaupapa colony on Molokai, but in 1873 he eagerly volunteered to minister.
"My Lord, remembering that I was placed under the pall on the day of my religious profession, thereby to learn voluntary death is the beginning of new life," he told his bishop, "here I am, ready to bury myself alive among these unfortunate people, several of whom are personally known to me."
Damien was not he first to volunteer to help the settlement (whose residents were not there voluntarily: isolation of those who had contracted Hansen's disease was enforced by law from 1866 to 1969). But he seems to have been the first to work with the assumption that he too would contract the illness. Where other workers had left medicine, supplies, and food at a distance for the patients to use, Damien's work almost ensured infection. "The manual labor of the roughest kind which he did for the lepers, to make them more comfortable, could not fail to produce frequently cuts, punctures and abrasions, by which the danger of inoculation was greatly increased," a 1904 item in the Journal of the American Medical Association explained.
"You know my disposition," Damien wrote two days after arriving in Kalaupapa. "I want to sacrifice myself for the poor lepers. The harvest is ripe."
A bit more than a decade after ...
You have reached the end of this Article Preview