The Life and Times of John Calvin
Calvin came from lowly stock. His paternal grandfather was a barrel-maker and boatman, his mother's father an innkeeper. His own father, Gerard, however, had improved his lot to become a successful lawyer, with a practice which brought him into the society of the local gentry and cathedral clergy. A side benefit from these connections fell to John, in that he was to be educated privately with the sons of the aristocratic De Montmors and was also to be given one or two chaplaincies in the cathedral, which serve as university grants.
Gerard planned a career in the church for his son. The path to this career lay through the University of Paris. There he would take the arts course and then go on to the nine years of study for the theological doctorate. After that, he would trust the De Montmors' patronage and his own talents to reach the higher levels of preferment.
The arts course was accomplished, or nearly so, by the mid-1520s. Calvin was now an excellent scholar, a good Latinist, proficient in the philosophy taught in those days, and qualified to take up the intensive study of theology.
A Change in Plans
But suddenly all the plans fell through. Gerard changed his mind and decided that John should achieve greatness in law and not in the church. John, dutiful son that he was, acquiesced, and the next five or six years saw him at the University of Orleans, attaining some distinction in a study for which he had no love. These were years which brought him into the ideals of the Renaissance and probably into the evangelical faith as well.
The effects of the new approach to the arts and scholarship were by this time apparent all over Europe. Greek was steadily making its way as a necessity and not a mere ornament in the scholar's equipment. ...
You have reached the end of this Article Preview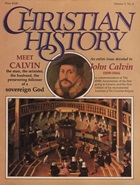 10/01/1986