Comenius: A Man of Hope in a Time of Turmoil
The 17th century, in which Jan Amos Comenius (1592–1670) spent his adult life, was a time of violent change for the cultural and political life of Europe. The Roman Catholic Church, seriously shaken by the Reformation, hurried to regroup. After a systematic revision of its doctrine at the Council of Trent, the Church launched a deliberate re-catholicization program. Adopting a clever diplomatic strategy, led by the Jesuits, Catholicism tried to regain its monopoly in the courts of Europe and thereby push the Reformation aside. These efforts resulted in confessional wars—Protestant versus Catholic— which severely oppressed the people of Europe for 30 years. The question of faith shifted to the background and into the forefront was pushed the question of power.
The battle front between Roman Catholicism and the Reformation passed through Central Europe, where Comenius lived. The Protestant churches in Bohemia and Moravia were violently liquidated in the aftermath of the Battle of White Mountain (1620). Under the Hapsburg dynasty, Roman Catholicism became the only legal religion in those lands. Protestant nobles were forced into exile and the common people were corralled back into the Roman Church.
As a priest of one Reformation church, the Unity of the Brethren, Comenius experienced this tragic situation in the depths of his faith in Jesus Christ. His 1623 work, The Labyrinth of the World and the Paradise of the Heart, in which he escapes from the world's chaos to find peace in Christ, testifies to this. In the midst of these disasters he never succumbed to resignation or an ascetic refusal of the world. His reading of the Old Testament prophets helped him to see in these events God's judgment and a call to repentance. Out of ...
You have reached the end of this Article Preview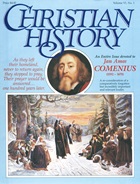 01/01/1987