The Life and Thought of Caspar Schwenckfeld von Ossig
Sometime in 1518, or perhaps 1519, Caspar Schwenckfeld experienced what he refers to as a "visitation of the divine" (in German, Heimsuchung Gottes, literally "home-seeking of God"). He admits that he was not particularly religious during his early years as a court advisor, but his pattern of behavior changed after 1518.
The visitation to which he refers was not the only change in his life at the time. He was directly affected by his reading of Luther's writings, and he undertook a serious study of the Scriptures at this point in his life as well. Shortly before September 1519, his father died and not long after that Schwenckfeld began to lose his hearing, an event which forced him to return to his family estate at Ossig (now run by his brother Hans) and to serve Duke Friedrich as only an occasional advisor, although he did remain highly influential at the court.
By 1521 he was seriously supporting the cause of reform, and had won his Duke to his programme by 1522. But from the very beginning Schwenckfeld's position seems to have differed from Luther's, and by 1524 the differences were abundantly clear. In June of that year he published an Admonition to the Silesian preachers in which he attempted to rectify problems he saw arising from Luther's theology.
He was concerned above all that the five principles at the center of Luther's position were misleading the simple people of the day. These were (1) that faith alone justifies, (2) that an individual does not have free will, (3) that we cannot keep God's commandments, (4) that our works are of no avail, and (5) that Christ has made satisfaction for us.
The Nature of Faith
Ever concerned with the practical results of theology, Schwenckfeld did not reject these principles out of ...
You have reached the end of this Article Preview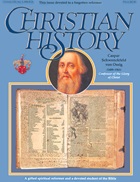 01/01/1989