The Return of the Spirit: The Second Great Awakening
By the year 1800, nearly a million people had made their way west. They settled in the area west of the Blue Ridge in Virginia, in Kentucky, Tennessee, the Northwest, and in the Indian Territory. In 1803, the crowning achievement of Jefferson's first administration came: the Louisiana Purchase. This doubled the area of the United States and gave an enormous new impulse to western migration.
What appeared to be an opportunity for national expansion, however, seemed dark for the future of the Christian faith. How, believers wondered, could the Church possibly keep ahead of the vast movement to the new areas? An Episcopal preacher described the Carolinas:
How many thousands … never saw, much less read, or ever heard a Chapter of the Bible! How many Ten thousands who never were baptized or heard a Sermon! And thrice Ten thousand, who never heard of the Name of Christ, save in Curses … ! Lamentable! Lamentable is the situation of these people.
With the later arrival of great numbers, the situation did not improve. In every southern state, religious leaders voiced their fears and distress. A French nobleman who made a tour of the states wrote that "religion is one of the subjects which occupies the least of the attention of the American people...."
Outpourings of the Spirit
Then suddenly, about the year 1799, the atmosphere changed dramatically. In that year a Presbyterian pastoral letter stated that although there was still much immorality and vice,
We have heard from different parts the glad tidings of the outpourings of the Spirit, and of times of refreshing from the presence of the Lord.… From the east, from the west, and from the south, have these joyful tidings reached our ears.

They expressed still greater joy in 1801:
Revivals, ...
You have reached the end of this Article Preview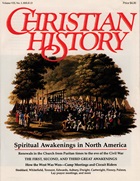 07/01/1989