The Army Mother
You either respect or dislike Catherine Mumford Booth, the sweet, diminutive, but strong-minded wife of the Salvation Army's founder, William Booth. In intellect she far excelled her husband's modest gifts; in preaching she exceeded his powers of persuasion. Constance M. Coltman may have overstated the case: "It was she who turned an energetic, rather vulgar, but simple-minded dyspeptic into one of the great religious leaders of the world."
Catherine was born in Derbyshire in 1829 to Methodist parents. Her father was an occasional lay preacher and carriage maker; her mother was a devout woman, who, after her father's fall from grace to alcoholism, lived a lonely life with Catherine as her only solace. Except for a brief period in a girls' school in Boston (England), Catherine learned to read, count, and analyze at home. Her biographers speak of her prodigious reading of the Bible, theology, and history.
Love Affair
The Mumfords moved to Brixton in South London in 1844. When Catherine refused to condemn Methodist Reformers in 1850, the Wesleyans expelled her. For the Reformers she led a girls' Sunday school class in Clapham. At the home of Edward Rabbits, in 1851, she met William Booth, who also had been expelled by the Wesleyans for reform sympathies. William was reciting a temperance poem, "The Grog-seller's Dream," which appealed to Catherine, who had embraced the new Methodist passion for abstinence. Even as a young girl she had served as secretary of a Juvenile Temperance Society.
On his 23rd birthday, William took Catherine home after a service, and a love affair began between this apparently mismatched couple. They did not marry until 1855, because of William's bumpy career. But in these years, through correspondence with ...
You have reached the end of this Article Preview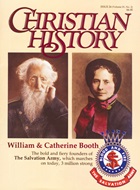 04/01/1990