The Bible Translation That Rocked the World
Martin Luther was many things: preacher, teacher, orator, translator, theologian, composer, and family man. He came to symbolize everything the Protestant Reformation stood for.
But perhaps Luther's greatest achievement was the German Bible. No other work has had as strong an impact on a nation's development and heritage as has this Book.
In Luther's time, the German language consisted of several regional dialects (all similar to the tongue spoken in the courts of the Hapsburg and Luxemburg emperors). How were these scattered dialects united into one modern language? The rise of the middle class, the growth of trade, and the invention of the printing press all played a part. But the key factor was Luther's Bible.
The Wartburg Wonder
Following the Diet of Worms in 1521, Luther's territorial ruler, Frederick the Wise, had Luther hidden away for safekeeping in the castle at Wartburg. Luther settled down and translated Erasmus's Greek New Testament in only eleven weeks. This is a phenomenal feat under any circumstances, but Luther contended with darkened days, poor lighting, and his own generally poor health.
Das Newe Testament Deutzsch was published in September 1522. A typographical masterpiece, containing woodcuts from Lucas Cranach's workshop and selections from Albrecht Durer's famous Apocalypse series, the September Bibel sold an estimated five thousand copies in the first two months alone.
Luther then turned his attention to the Old Testament. Though well taught in both Greek and Hebrew, he would not attempt it alone. "Translators must never work by themselves," he wrote. "When one is alone, the best and most suitable words do not always occur to him." Luther thus formed a translation committee, which he dubbed his "Sanhedrin." ...
You have reached the end of this Article Preview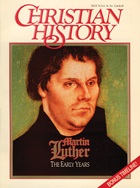 04/01/1992