Zwingli and Luther: The Giant vs. Hercules
The Colloquy at Marburg was called in hopes of reconciling the two centers of the German Reformation—Zurich and Wittenburg, but conflict over the Lord's Supper split their common cause.
November 10, 1983 was the 500th anniversary of the birth of Martin Luther. During the 500th anniversary year Luther made quite a splash in the media with full length articles in Time, Newsweek, the New York Times Magazine, and National Geographic. An abundance of church celebrations and scholarly conferences took place. There were pilgrimages by Lutherans and other Protestants to East Germany to visit the sites of his living and working.
Not nearly as well-known is the fact that January 1, 1984 was the 500th birthday of another Protestant Reformer, Ulrich Zwingli, of Zurich. Except for Zurich and its environs, Zwingli did not receive nearly the same amount of attention during his 500th anniversary year as Luther.
It was Zwingli's fate to have been cut down in mid-career at the battle of Kappel in 1531 and to have been cast in the shadow of Luther's gigantic stature. But he is an important figure in his own right. He was the father of the Reformed tradition which spread out in many directions—across Switzerland and southern Germany, to France among the Huguenots, Holland, England and Scotland among the Congregationalists and Presbyterians, across to the New World among the Congregationalists of New England and the Presbyterian, Dutch and German Reformed Churches of the Middle Colonies.
Although Zwingli is the originator of this tradition, his role in the shaping of it has been eclipsed by that of John Calvin, the second generation Reformer who, at Geneva on the other side of what is now modern Switzerland, took over ...
You have reached the end of this Article Preview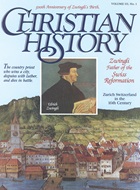 01/01/1984