The American Puritans: Did You Know?
Critic H. L. Mencken once said, wrongly, "Puritanism is the haunting fear that someone, somewhere, may be happy." On the contrary, Puritans read good books and enjoyed music. They drank beer with meals and rum at weddings. Puritans swam and skated, hunted and fished, and played at archery and bowling (as long as the games were not in a public tavern or on Sunday).
The famous "Pilgrims," who landed at Plymouth Rock in 1620, were so radical they were usually disliked and sometimes hated. Unlike most Puritans, they did not seek to reform the Church of England; they thought the church was beyond help.
Most weddings in New England were performed not by ministers but by magistrates. Wedding rings, seen as "popish," were not used.
The early settlers of Massachusetts included more than 100 graduates of Oxford and Cambridge. One historian termed Massachusetts "the best-educated community the world has ever known."
In Puritan worship, a prayer could last an hour or more; a sermon, two hours. In a lifetime, a Puritan might hear 15,000 hours of preaching.
Within only six years of their arrival, while still trying to hew out an existence, the Puritans founded a religious college named Harvard. Puritans wanted highly educated ministers, not "Dumme Doggs," as they called less-trained examples.
New England residents who failed to attend worship services on Sunday morning and afternoon were fined or put into stocks. Failing to glorify God for all his good gifts was a sacrilege.
Puritan women, though they didn't receive a college education, were generally literate and often well-read. The only respectable female vocation in Puritan America was managing a household. But that "household" generally included large numbers of children, servants, apprentices, ...
You have reached the end of this Article Preview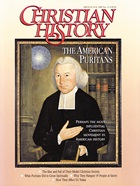 01/01/1994