Courage When It Counted
Candles flickered in the darkness as Thomas Cranmer, seated before a plain wooden desk, tried to make sense of his life. It was the night of March 20, 1556. He sat alone and confused in an Oxford jail cell, weary from months of trial, interrogation, and imprisonment. Before him on the desk were strewn a number of official documents.
There were 14 copies of his fifth recantation, in which he had repudiated the heresies of Martin Luther. The Spanish friars had asked him to sign them before morning so they would have sufficient copies for the printers. Though Cranmer had refused to do so the previous night—he had signed one, wasn't that enough?—now he debated whether to put his name to them.
Next to these lay the speech he was to give the next morning, a speech that repudiated his writings that had denied Catholic teaching.
Also before him was a different version of the same speech, which he had just finished composing. After declaring his faith according to the Nicene Creed, the speech swerved sharply: in it he called the pope "Christ's enemy and Anti-christ."
Cranmer agonized. Which speech should he read on the morrow? Which speech represented what he really believed?
His critics—and there were many—had accused him for years of hypocrisy; he was a cowardly archbishop who flip-flopped at crucial moments to curry favor with his king. That wasn't the way Cranmer saw it, but he had to admit it would be hard to interpret the last few months in any other way.
At 5:00 a.m., the exhausted, solitary prisoner, weary of internal debate, brought himself to sign the 14 copies of his recantation. He noted it was four hours before he was to be escorted to the stake and burned alive.
Thrust into National Affairs
Cranmer was born 66 years earlier ...
You have reached the end of this Article Preview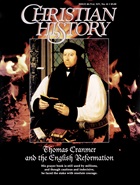 10/01/1995