Christianity and the American Revolution: A Gallery of Christians in the Cause
Patrick Henry
(1736–1799)
Eloquent thunderer
Inspired by his religious faith and passion for liberty, Patrick Henry not only fought against British tyranny but also the U.S. Constitution!
Born to a plain but respectable family in rural Virginia, Henry started his career at the age of 16 as a struggling storekeeper, and later as a farmer, before becoming a successful, self-taught lawyer in 1760. Educated by his father, Henry's modest background won him the title of "man of the people."
Henry first won fame as a young lawyer in 1763 by attacking the established Anglican clergy as "rapacious harpies" for demanding more money from their parishes. In 1765 he was elected to the Virginia legislature. Ten days after taking his seat, he started the sparks of revolution by calling the king and Parliament "tyrants" for taxing the people without their consent.
During the next ten years, Henry became the leader of the revolutionary movement in Virginia: "a Son of Thunder—Boanerges," as one contemporary called him (see Mark 3:17). In his most famous speech, Henry drew from the Book of Jeremiah to attack those who still hoped for reconciliation with England. "Gentlemen may cry, 'Peace, peace,' " he shouted, "but there is no peace. The war is actually begun! Give me liberty or give me death!"
After Virginia declared independence, Henry helped set up the new state government, of which he became the first governor. Though he helped to promote the "free exercise of religion" in Virginia's Declaration of Rights, he did not want complete separation of church and state. Believing that a republic could not survive without "virtue, morality, and religion," he wanted to see the state support all Christian denominations.
Although an Anglican, his exposure ...
You have reached the end of this Article Preview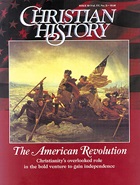 04/01/1996