The Monkey Trial and the Rise of Fundamentalism: Christian History Timeline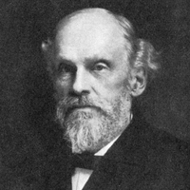 This slideshow is only available for subscribers.
Please log in or subscribe to view the slideshow.
Growing Concern: 1870-1900
1876
What will eventually be called the Niagara Bible Conference first meets (meeting annually until 1901); it inspires Bible and prophecy conferences nationally, which defend the Bible's verbal inerrancy and promote holiness and premillennialism
1881
Presbyterian theologians B. B. Warfield and A. A. Hodge write "Inspiration," which defends the inerrancy of Scripture; such articles begin to appear increasingly
1889
Moody Bible Institute founded, inspiring the founding of hundreds of Bible institutes and colleges that will become centers of fundamentalism
1892
Charles Briggs, liberal professor of Old Testament at Union Theological Seminary, New York, is convicted of heresy for his liberal interpretations of the Bible
Defining the Issues: 1900-1920
1909
Scofield Reference Bible, whose notes teach dispensationalism and Keswick holiness, published; will become best-selling Bible among fundamentalists
1910-1915
The Fundamentals published; promotes conservative teaching
1910
Northern Presbyterian Church affirms five essential doctrines: inerrancy of the Bible, the Virgin Birth, Christ's substitutionary atonement, his bodily resurrection, and miracles
1919
World's Christian Fundamentals Association formed, the largest and longest-lasting (until the 1940s) international fundamentalist association
1920
Curtis Lee Laws, editor of the Baptist Watchman-Examiner, coins the term fundamentalist
1920
Conservatives in the Northern Baptist Convention organize the Fundamentalist Fellowship to combat spreading liberalism
Public Confrontations: 1920-1930
1923
J. Gresham Machen's Liberalism and Christianity defines liberalism as another religion
1923 Baptist Bible Union ...
You have reached the end of this Article Preview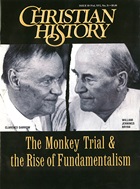 07/01/1997