The Man with Three Wives
In the 1940s, a British district officer in Tabora, in what is now central Tanzania, found the local people still told stories about Livingstone, who had spent six months there before setting out on his last journey.
An old man said, "My father used to say that Livingstone was like a man that had three wives, and yet none of them were women. One was a river. The river they call the Nile. The second was the struggle against slavery. The third, religion."
By the time Livingstone had reached Tabora, his true wife was long dead. But local tradition recognized, with great insight, the conflict between his passion for exploration and the demands of family life. "He was a holy man," the Arab Taboran said. "A little mad, but yet a holy man."
"Tearing out my bowels"
Livingstone's marriage to Mary Moffat in 1845 began as a purely unromantic, utilitarian venture. Livingstone had decided that he needed a wife to help him in his missionary work. Mary, at 23, wanted to have a home of her own and expected to be part of a missionary establishment like that of her parents. At the remote Kuruman mission station, both had a limited choice of marriage partners.
Livingstone was hardly ecstatic about his new bride, describing her as "a plain, common-sense woman, not a romantic. Mine is a matter-of-fact lady, a little, thick, black-haired girl, sturdy and all I want."
In time, however, he grew to love her deeply. He was to write her, "I never show my feelings, but I can say truly, my dearest, that I loved you when I married you and the longer I lived with you, I loved you the better."
After several false starts at starting mission stations, they settled among the BaKwena and began raising a family. Mary expected to stay in one place, as her parents did ...
You have reached the end of this Article Preview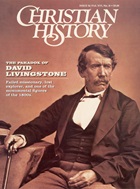 10/01/1997