Evangelism in the Early Church: A Gallery of Key Converts
Gregory Thaumaturgus
(c. 210-260)
"The Wonder Worker"
Parents today sometimes worry that their children will go off to college and return as converts to some strange new religion. That's exactly what happened 1,700 years ago to Gregory of Pontus, only the strange new religion was Christianity.
Born into an affluent pagan family in Neocaesarea (modern Turkey), Gregory studied law and the traditional Greek and Roman classics. Then he and his brother were sent for further study to Caesarea in Palestine, where they enrolled in the school of the great Christian thinker Origen. His teacher converted him (and his brother, Athenodorus) to Christianity.
When Gregory returned home, he found a Christian community of 17 people waiting for him. Soon afterward, Gregory was elected bishop. Although his training was in speculative theology, Gregory's pastoral work was concerned with practical applications of the faith. His pastoral skills were such that some of his flock soon attributed miracles to him—hence his nickname, "The Wonder Worker."
One legend (from a generation later) described the Virgin Mary directing the apostle John to instruct Gregory about the Trinity so the bishop could teach his catechumens. Another legend tells how two brothers quarreled over possession of a lake and asked Gregory to arbitrate between them: Gregory is said to have divided the lake into two bodies of water, giving one to each brother.
Legends or no, Gregory's leadership must have been great, because during his ministry most of the city of Pontus converted to Christianity.
Doctrinal conflicts required him to participate in several church councils that condemned false teaching. In 253 and 254, he watched Goths sack his beloved home city. Roman rule survived for ...
You have reached the end of this Article Preview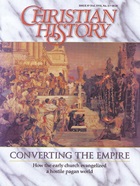 01/01/1998