Ordinary Saints at First Church
Pagans and Jews converting by the thousands after hearing the preaching of the apostles. Apologists, using logical and passionate argument, convincing elite Romans to believe in Christianity. These are the images once elicited in histories of evangelism in the early church.
But typical converts in the early days of Christianity probably did not hear about the faith from an apologist or at a public rally. More likely, their introduction came through "everyday evangelism"—through the ongoing life in the local church, the witness of individual Christians, and specialized "parachurch" ministries.
Mission-sensitive churches
Organized communities of faith deserve chief credit for evangelizing the Roman Empire, both before and after Constantine. Imitating a model crafted by Paul, early Christians planted churches, nurtured them, and made them centers for attracting and enlisting converts.
Churches were founded in almost every way possible. Sometimes a bishop, presbyters, or deacons were sent to evangelize and organize a new church. For example, in the mid-third century, Cornelius of Rome was reputed to have sent seven bishops to Gaul (modern France) to plant churches. Other times, churches that had spontaneously formed through lay evangelism asked for a bishop to instruct them.
Most churches had the same goal: evangelism.
"Enlighten those in darkness," intones an early liturgical prayer from Egypt. "Raise up the fallen, strengthen the weak, heal the sick, guide all, good Lord into the way of salvation and into thy holy flock."
Some converts learned about the faith through friendship with church members. Others saw or heard about exorcisms or healings. Some witnessed the arrest of a Christian or even a martyrdom. Others lived in Christian ...
You have reached the end of this Article Preview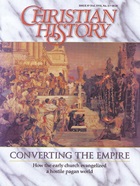 01/01/1998