The Rise of Pentecostalism: Christian History Timeline
Holiness Roots
1867 National Holiness Association forms in Vineland, New Jersey
1879 Isaiah Reed forms the largest holiness association in America, the Iowa Holiness Association
1887 A. B. Simpson founds the Christian and Missionary Alliance to promote the Holiness "Fourfold Gospel"
1895 B. H. Irwin teaches a third blessing "baptism of Fire," splitting the Iowa Holiness Association and forming the Iowa Fire-Baptized Holiness Association
1896 Schearer Schoolhouse Fire-Baptized Holiness revival experiences tongues
1897 Charles H. Mason and C.T. Jones form the Church of God in Christ in Lexington, Mississippi
1898 First congregation of the Pentecostal Holiness Church in Goldsboro, North Carolina
Pentecostal Birth
1901 Agnes Ozman speaks in tongues in Topeka. Charles Parham calls tongues the "Bible evidence" for baptism in the Spirit
1902 First congregation of the Church of God formed at Camp Creek, North Carolina
1905 William Seymour accepts Pentecostal doctrine from Parham in Houston, Texas
1906 First General Assembly of the Church of God (Cleveland, Tenn.)
1906-1909 Azusa Street Revival; Pentecostalism becomes global under Seymour's leadership
1907 T. B. Barrett opens Pentecostal meetings in Oslo. Begins Pentecostal movements in Scandinavia, England, and Germany
1907 G. B. Cashwell spreads Pentecostalism in the South
1908 John G. Lake begins South African Apostolic Faith Mission
1908 Church of God (Cleveland, Tenn.) accepts Pentecostalism under A. J. Tomlinson
1909 Luigi Francescon and Giacomo Lombardi begin Italian Pentecostal movements in the U.S., Italy, Argentina, and Brazil
1909 German evangelicals condemn Pentecostals in the "Berlin Declaration"
1909 Florence Crawford founds the Apostolic Faith Church in Portland, Oregon
You have reached the end of this Article Preview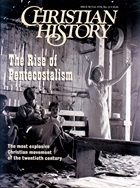 04/01/1998