The Link: Modern Myths of the Medieval Past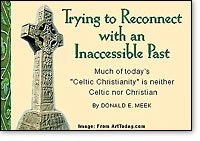 This slideshow is only available for subscribers.
Please log in or subscribe to view the slideshow.
If you go into any of the larger bookshops and look in the sections designated Religion or Mythology or even New Age, probably you will encounter books on "Celtic" themes, including "Celtic Christianity."
The subject can also be encountered beyond the bookshops. It is actively fostered by some religious communities, and Celtic liturgies are being produced for those who wish to incorporate such prayers into their worship. Study guides are available for those wanting to explore Celtic Christianity in group discussion.
It is easy, indeed comforting, to assume that modern Celtic Christianity offers the public a rediscovery of a faith well-known in the early medieval period but subsequently lost.
But does it?
Reality of the past
Much in the modern explanations of Celtic Christianity does go back to the medieval Irish, much that is unique in the history of Christianity.
Celtic Christianity has left us many splendid legacies: stone crosses, beautiful metal artifacts, remote churches. Literature from this period has survived, too: sermons in Gaelic/Irish, and hymns and poems from the early Middle Ages. A few early Irish hymns have been translated into English, like "Be Thou My Vision," and "Saint Patrick's Breastplate." Some modern writings on Celtic Christianity are concerned with the exposition of these early hymns.
How Celts pursued their faith was unique in many respects because they adapted it to the social structures of their time and place, a predominantly rural society. For example, Irish monasteries, which came to be mini-cities, adapted the traditional ring-fort of early Irish society.
Consequently, Celtic Christian faith differed in some ways from the Roman Christianity practiced in ...
You have reached the end of this Article Preview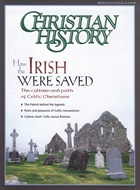 10/01/1998