Reformation Apocalypticism: Münster's Monster
The year is 1530. Protestant thought sweeps like a tornado across a European terrain that has altered little for a thousand years. Caught in the storm, the influential town of Strasbourg (now in France) is gripped by the same fears rampaging through Germany and the Netherlands. The stage is set for revolution. Melchoir Hoffman, a furrier, mounts the pulpit to preach another of his fiery apocalyptic sermons. The New Revelation is about to be unleashed.
Earlier that year, the popular preacher had spontaneously started rebaptizing adults. His independent thinking had gone far beyond anything Martin Luther envisioned, but it quickly gathered a large following in the low countries.
While historians have difficulty pinpointing the origins of the Anabaptist movement because of its simultaneous emergence in several places, most agree Melchoir Hoffman's preaching was the most significant factor in launching the radical wing of the Reformation. His emphasis on a literal millennial reign of Jesus Christ on earth gripped the imagination of the Anabaptist movement.
Lutherans, Calvinists, and Anglican Reformers rejected millennialism as "ignorant" and "malicious" speculation. The Thirty Nine Articles, the Augsburg Confession, and the Westminster Confession avoided any notion of a literal, thousand-year reign of Christ. However, such was not the case in Strasbourg, where Hoffman's imagination had been taken captive by Revelation's twentieth chapter and the expectation of a literal, imminent coming of the physical Kingdom of God.
With all the fire and fury of a frontier revival preacher, Hoffman proclaimed his inspired images and visions. The congregation already knew an age was ending; he convinced them The End was at hand. Hoffman's personal ...
You have reached the end of this Article Preview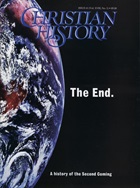 01/01/1999