The First Heroes of African American Christian History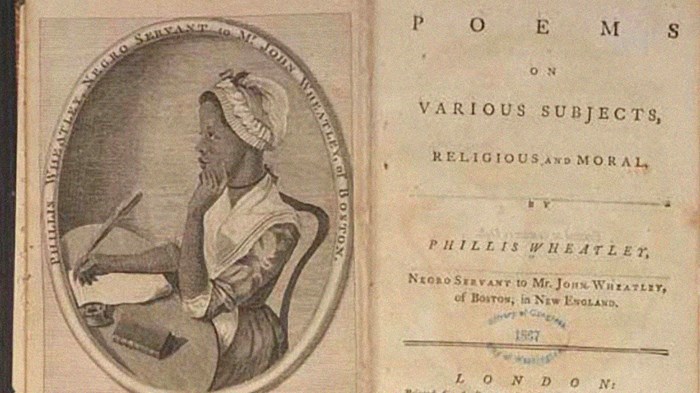 The Forgotten Poet
Phillis Wheatley, c.1753-1784
'Twas mercy brought me from my Pagan land,
Taught my benighted soul to understand
That there's a God, that there's a Savior too:
Once I redemption neither sought nor knew.
So wrote the first major black poet in American history and one of the nation's first major female poets, Phillis Wheatley.
She was born in Gambia, West Africa, stolen from her parents at age 7, enslaved, and brought to America. Boston tailor John Wheatley purchased her as a personal servant for his wife, Susannah. Phillis displayed a ready intelligence, learned English quickly, and soon began reading and writing poetry.
The Wheatleys were members of the famed Old South Meeting House in Boston, where Phillis attended church and was baptized at age 18. She achieved some renown with the publication, in England, of her Poems on Various Subjects Religious and Moral (1773). Though she had been examined by "18 of the most respectable characters in Boston" (to prove that she, a black women, really wrote the poems), no American publisher would publish her. Only with the help of evangelical philanthropist Selina, Countess of Huntington, did her poems come to the public's attention. As a result of her obvious gifts, her owners eventually gave her freedom.
Her poetry reflects the neoclassical style of the day but also reveals the circumstances of her life, especially her race and her faith. Perhaps her most famous poem was "On Being Brought from Africa to America," quoted above. Later she won the notice of General George Washington with a poem she dedicated to him.
She also memorialized the work of evangelist George Whitefield, a pioneer in preaching to blacks. Wheatley, in her poem "On the Death of the Rev. Mr. George Whitefield," imagined the evangelist offering salvation through Christ to his hearers:
Take him, ye Africans, he longs for you,
Impartial Savior is his title due:
Wash'd in the fountain of redeeming blood,
You shall be sons, and kings, and priests to God.
Phillis married John Peters in 1778. For years she suffered from poor health and financial woes. Though she was the first African American to publish a book and is today considered the founder of the African American literary tradition, she died virtually penniless, living in obscurity on the outskirts of Boston. Many of her poems did not see publication until years after her death.
The Pastor to Whites
Lemuel Haynes, 1753-1833
To the late twentieth century, when Christians vigorously debate the question of racial reconciliation and how to achieve it, Lemuel Haynes represents a significant symbolic "first"—the first black pastor of a white congregation.
The illegitimate son of a black father and a white mother, Haynes grew up as an indentured servant to the Rose family in Massachusetts. The Roses included young Lemuel in their church attendance and family devotions, resulting in Haynes's increasingly "fearful apprehensions," especially upon seeing the Northern Lights, which to him was a "presage of the day of judgment." Then "one evening, being under an apple tree mourning my wretched condition … ," he wrote, "I found the Savior."
The Roses also gave him an education and treated him, Haynes said later, like one of their own children. At the end of his period of indenture, he served in the Continental Army during the Revolution, and then, with the support and encouragement of the Roses and others, he was ordained to the ministry.
Haynes spent the largest part of his pastoral career at Rutland, Vermont (1788-1818), where he led the town's Congregational church through the Second Great Awakening. In 1803, for example, spiritual excitement spread through the congregation. So many young people attended an "inquiry meeting" at a private home, the floor collapsed and everyone fell into the cellar (no one was hurt). He recorded 103 conversions that year, and another 109 a few years later.
Haynes also gained note for his public opposition to Universalism, the belief in the ultimate salvation of all people. When Universalist leader Hosea Ballou came to Rutland, Haynes, at Ballou's invitation, responded at the conclusion of the Universalist's remarks. Haynes granted that Universalism was an ancient doctrine; it went back, he said, to the Garden of Eden where the serpent told Eve, "Ye shall not die." Haynes then gave a satirical sermon, "Universal Salvation—A Very Ancient Doctrine," which went through 70 published editions between 1805 and 1860.
In this and other controversies, Haynes showed himself a quick-witted opponent. For example, two young Universalists confronted Haynes one day and asked, "Father Haynes, have you heard the good news?"
"No, what is it?" he replied.
"Why, the devil is dead," one replied.
Haynes looked at them sadly, placed his hands on their heads, and said, "Oh, poor fatherless children! What will become of you?"
The church at Rutland dismissed Haynes in 1818 after 30 years of ministry. The immediate causes were Haynes's political views (he was a Washingtonian Federalist). Only in this bitter dispute did the pastor's race become a question to the congregation. It was, Haynes reflected ruefully, as though after 30 years the congregation had suddenly discovered its minister was black.
Twentieth century writers have sometimes acidly commented on the minister's apparent silence on the question of slavery. But in the 1980s, Ruth Bogin found in Harvard's Houghton Library an unpublished manuscript by Haynes titled "Liberty Further Extended." Written during the American Revolution, the essay decried slavery: "Liberty," wrote Haynes, "is equally as precious to a black man, as it is to a white one, and bondage equally intolerable to the one as it is to the other."
The Missionary to Native Americans
John Stewart, c.1786-1823
It is little wonder, given the history of their mistreatment at the hands of whites, that many Native Americans were suspicious of missionaries preaching what seemed to be a "white man's religion"—even when a black was the missionary. And yet because of the perseverance of this man, John Stewart, many eventually adopted his religion.
Stewart was born free in Virginia around 1786 and moved to Ohio in 1807. Loneliness and alcohol made him miserable and led him to contemplate suicide. Instead of death, however, he found life in converting to Christ and joined the Methodists.
Then, Stewart said, he heard a voice telling him, "Thou shalt declare my counsel faithfully." Feeling impelled to preach to Indians, Stewart journeyed to northern Ohio to the Wyandots, a branch of the Hurons driven south by the Iroquois League. Once a thriving people, the Wyandots had been reduced to about 700 when Stewart arrived at their reservation on the Upper Sandusky River in 1816.
There he met another black, Jonathan Pointer, who knew the Wyandot language. He told Stewart it would be "folly" to preach to the Indians. Nonetheless, the indifferent Pointer agreed to interpret Stewart's sermons—though it was later reported back to Stewart that Pointer regularly inserted commentary such as "So he says. I do not know whether it is so or not, nor do I care."
Stewart also encountered opposition from Indians themselves. One chief, Two Logs, said blacks were not worth listening to: "The Great Spirit never created Negroes," he said. "They were created by the Evil Spirit."
Still, by degrees, Stewart won the trust of the Wyandots, and he saw conversions. Matthew Peacock, the first chief to convert, recalled that when Stewart first came, "We treated him ill, and gave him little to eat, and trampled on him, and were jealous of him for a whole year." But after many years of Stewart's ministry, Peacock said the Wyandots had changed their minds: "We were convinced that God had sent him to us."
Stewart died, apparently from tuberculosis, in 1823. Twenty years later, the federal government moved the Wyandots to Kansas as part of its Indian relocation policies. But Stewart had made his mark—the first black missionary to Native Americans and the first Methodist home missionary in America.
The Exhorter Extraordinaire
Jarena Lee, 1783-c.1850
Her story is filled with gaps. Her maiden name is unknown, and the year of her death is uncertain. But her legacy is well known: Jarena Lee is the first significant female black preacher in America.
Born a free black in New Jersey, at age 7 Lee became a maid in a household 60 miles from home. She was converted around the age of 20 during a Richard Allen sermon. Troubled by the sin of malice at the time, she prayed, "Lord, I forgive every creature." Instantly she felt that "not only the sin of malice was pardoned, but all other sins were swept away together."
Feeling she was called to preach, she approached her pastor, Richard Allen. He discouraged her, pointing out that the Methodists did not permit women preachers.
Instead Jarena married a minister, Joseph Lee, in 1811. The next few years proved difficult for her. She was often lonely, ill, and felt unfulfilled, sublimating her desire to preach by counseling those whom "the Lord would send" to visit her house. She bore six children, but only two survived, and then she suffered the loss of her husband.
She returned to Allen's church and again proclaimed herself called to preach, reasoning to herself, "Why should it be thought impossible, heterodox, or improper for a woman to preach seeing the Savior died for the woman as well as the man?" This time Allen supported her, permitting her to become an "exhorter" and "evangelist," though not a "preacher."
Lee spoke in homes, school houses, and—when ministers would allow—meeting houses. Her itinerancy ranged over the northeastern United States and as far west as Ohio. She preached hundreds of sermons, often to racially mixed audiences. Later, she compiled and published her memoirs in 1833, one of the first autobiographies by a black woman in America.
Mark Sidwell holds a Ph.D. in church history, and is author of Free Indeed: Heroes of Black Christian History (Bob Jones University Press, 1995).
The Priest of Brotherly Love
Absalom Jones, c.1746-1818
Early on, Absalom Jones got in the habit of thinking of others ahead of himself. While serving as a slave in Philadelphia, he secured the help of several Quakers and his father-in-law, and bought his wife's freedom. Only then, six years later in 1778, did he buy his own.
Jones became active in Saint George's Methodist Episcopal Church, and with Richard Allen, was a key player in the emerging black church of Philadelphia. Jones was one of the blacks who left St. George's when they weren't allowed to sit where they pleased. With Allen and other blacks, he nursed and buried many of the nearly 4,000 who died in Philadelphia's 1793 yellow fever epidemic (while many whites, including George Washington and Thomas Jefferson, fled to the safety of the countryside).
Jones and Allen eventually split over denominational loyalties but continued to work together in founding the black counterpart of the Masons, and opposing the Fugitive Slave Law and the African Colonization Society (whose solution to the racial problem was to ship blacks back to Africa).
In the meantime, Jones became a deacon and, in 1804, the first black priest in the Episcopal Church. In 1794, he had helped found Saint Thomas African Episcopal Church in Philadelphia to encourage blacks to live a pattern of life he had modeled: "To arise out of the dust and shake ourselves, and throw off that servile fear, that the habit of oppression and bondage trained us up in," he wrote. "And in meekness and fear, we would desire to walk in the liberty wherewith Christ has made us free."
—The Editors