How the West Was Really Won: Did You Know?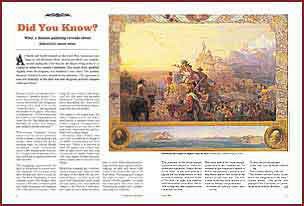 This slideshow is only available for subscribers.
Please log in or subscribe to view the slideshow.
As North and South clashed in the Civil War, Americans saw hope in one direction: West. This mural study was commissioned during the Civil War for the House Wing of the U. S. Capitol to reflect the country's optimism. (The mural itself, modified slightly from the original, was finished a year later.) The painter, Emanuel Gottlieb Leutze, described his intention: "To represent as near and truthfully as the artist was able the grand peaceful conquest of the great West."
A sense of God's providential will—America's "manifest destiny"—infuses the painting. In his notes, Leutze described the emigrants catching their first view of the "'promised land' … having passed the troubles of the plains, 'The valley of darkness' &c." Of the woman near the center of the composition, he wrote that she "has folded her hands thanking for escape from dangers past (religious feeling indicated)."
The western "conquest" Leutze noted was not always peaceful, which is hinted in the painting's top border, where Indians flee the descending eagle. An official, though incomplete, Army compilation shows 1,065 engagements between U. S. troops (and occasionally civilians) and Native Americans between 1866 and 1891.
The struggling wagon toward the back of the picture is a more accurate depiction of westward travel than the jubilant faces toward the top. The most challenging of early overland routes, the Oregon Trail, covered 2,000 miles of barren plain and steep mountains and required 150 to 180 days to traverse. Traffic along the route didn't really begin until the 1836 party that included missionaries Narcissa Whitman and Eliza Spaulding (the ...
You have reached the end of this Article Preview